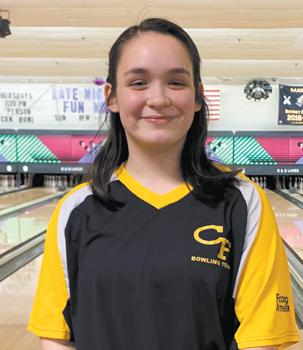 Cape Fear's Cecilia Chafin and Pine Forest's C.J. Collins both started the Cumberland County high school bowling season as newcomers to the sport locally. But that didn't wind up as a liability as both were champions in the season-ending conference bowling tournament earlier this month.
Chafin and Collins both rose from being No. 3 seeds in the step ladder finals to claim the championships.
Chafin defeated top-seeded Jordan Locklear of Overhills 178-154 in the final match to take the girls championship title.
Collins also beat the No. 1 seed, Terry Sanford's Jack Cooney, by a 205- 183 score in their title match.
While Chafin and Collins may have been new to team bowling at their schools, both entered the season as veterans of the sport.
Collins is a freshman at Pine Forest, but he said he's been bowling with family and friends for more than 10 years.
Chafin has been bowling for nine years but only recently arrived in the Fayetteville area because of her family's military connection. High school bowling had never been offered where she lived before. She arrived in town too late to bowl last year, so her senior season at Cape Fear turned out to be her only chance at competing for her new school.
"Bowling is just really fun to me,'' Chafin said. "The more I bowl, the better I get and the more I want to improve.''
The typical high school regular-season bowling match is different from bowling as an individual. In high school matches, everyone contributes to a team score, and each bowler on the team only gets to roll two frames.
"When it comes to a school team, it's a lot more intense,'' Collins said. "You try harder and want to do the best for your team.''
In the season-ending conference tournament, the top five bowlers, male and female, qualify to compete in step ladder fashion for the individual title.
En route to her victory, Chafin beat second-seeded Zoe Cannady of Terry Sanford, 173-170, then downed Locklear in the final.
Chafin said she kept her cool in the match with Cannady and felt her confidence growing. "I made sure I was hitting my mark every time,'' she said.
Collins topped South View's Hunter Hicks 172-149 before downing Cooney in the title match.
Collins is a two-handed bowler, which he feels gives him more spin on the ball and makes strikes easier when the ball reaches the pocket.
Chafin already plans to enroll at Fayetteville State University next year and become a member of the school's successful bowling team.
"I'm hoping to learn a lot more about my technique and how I can improve,'' she said.
Collins plans to continue bowling at Pine Forest. "I just need to do what I did this year, go out and have fun,'' Collins said.
Here is the Cumberland County All-Conference bowling team.
BOYS
First team
Jack Cooney, Terry Sanford; Hunter Hicks, South View; C.J. Collins, Pine Forest; Jacob Ezzelle, Pine Forest; Noah Hash, Pine Forest; Ammon Janet, Gray's Creek.
Second team
Tommy Cooney, Terry Sanford; C.J. Woolley, Gray's Creek; Nick Roberson, South View; Damien Perkins, Gray's Creek.
GIRLS
First team
Jordan Locklear, Overhills; Zoe Cannady, Terry Sanford; Cecilia Chafin, Cape Fear; Emily Gibson, Pine Forest; Belle Johnson, Pine Forest.
Second team
LeeAnne Robbins, South View; Maya Ervin, Terry Sanford; Abagayl Gowen, Gray's Creek; Nicole Grossmick, Douglas Byrd; Regan Duncan, Cape Fear.
Photo: Cecilia Chafin