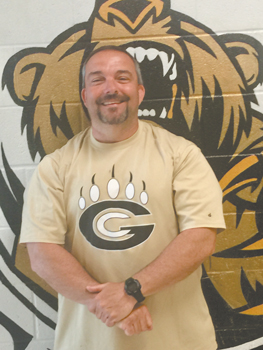 When most people reach career milestones, they take a little time to reflect and celebrate. Not Gray's Creek High School baseball coach Jeff Nance. When Nance reached the 400th career win in his head coaching career recently, he observed it in an unusual way. He unveiled signs that were placed on the fence at the Gray's Creek's baseball field honoring two coaches who made a big impact on his life: Randy Ledford of South View and Brad Barbour of Douglas Byrd, both deceased.
Nance said he began planning the recognition a year ago, long before he got his 400th victory.
"I grew up watching both of them coach,'' Nance said. "I played for Brad, (at Byrd and in American Legion baseball, and I coached against Randy. Coach Ledford was such good friends with my brother, Ronnie Luck."
Luck was the former athletic director at South View during Ledford's tenure as the school's baseball and football coach.
Nance said both men taught him the value of taking good care of baseball facilities. "Coach Ledford and Coach Barbour were meticulous about their fields,'' Nance said. "They took pride in the small things, cared about how their kids felt when they played. They wanted it to be a good experience.''
Barbour was like a second father to Nance, picking him up to take him to practice and making sure he and the other players on the team had things they needed like shoes and gloves. "He made it nice for us and he loved us,'' Nance said.
Ledford had a great sense of humor and was as fundamental a baseball coach as they come. "I always loved his baseball signals,'' Nance said, laughing. "I've seen him — when he wanted a guy to steal, he'd shake his head and nod toward second base. When he wanted a pitcher to pick a runner off, he'd just yell, 'Now!' He didn't get complicated with the game.
"He really taught fundamentals. He made his kids hustle and play the game the way it was supposed to be played. That's what I respected about him most.''
Now, with 28 years as a head coach behind him, 12 at Byrd and the last 16 at Gray's Creek, it's obvious Nance is a capable coach, too.
"I've never dreaded coming to work,'' he said. "I've always enjoyed teaching school and coaching.''
But he sees the game changing, and not all of it is for the best. "The team concept has kind of gone away,'' he said. "It's my at bats, my earned run average, my batting average and all that.''
He sees benefits in the travel ball explosion that allow more players the chance to play. But there's a downside. "We're seeing more arm and overuse injuries,'' he said. "Kids are specializing and playing so much.
"Parents are paying a lot of money to get kids playing time, investing in them to get better.''
Nance said sometimes when travel ball youngsters arrive on the high school field, they are convinced they'll be college stars or future major leaguers. "When they get to high school, it seems like the high school coach is the only voice of reason they've heard in awhile," Nance said.
He said he's concerned about some of the changes being discussed in the game at the major league level, including putting in a clock for pitchers to speed up their delivery and talk of moving the pitcher's mound back further.
"I don't want the game to change,'' he said. "I want people to respect the game and what it teaches. I hope our kids can look back at our program 20 years down the road and say, 'we had some coaches at Gray's Creek that cared more about us and the game.' "I hope they say, 'he loved us and taught us about being a better man as well as a baseball player.'''
Photo: Gray's Creek baseball coach Jeff Nance