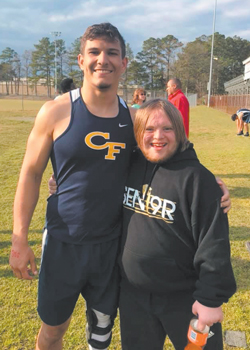 Three Cumberland County high school athletes are among 31 from North Carolina who have been named this year's winners of the Heart of a Champion Award by the North Carolina High School Athletic Association.
The three from the county are Austin Hunt and Chloe Arnette of Cape Fear High School and Earl "Early Bird" Horan IV from Gray's Creek High School.
Each of the three was nominated by their respective schools for outstanding displays of sportsmanship.
Hunt and Horan have a direct connection in their respective awards. Horan is a special needs student at Gray's Creek who competes in both wrestling and Unified Track. Unified Track is a recent addition to the Cumberland County athletic program that offers track and field competition for the special needs population.
Hunt plays football and wrestles for Cape Fear. He and Horan met in a preliminary match between Cape Fear and Gray's Creek this season, and Horan came away with the victory.
"What a great guy,'' said Horan's father, Earl Horan III, of Hunt. "He always has time for Early Bird.''
Hunt praised the younger Horan for never holding back. "He always tries to do the best he can,'' Hunt said. "The only thing that can stop him is himself. He goes out and chases his dreams.''
The senior Horan said he was moved to tears when he received the letter from the NCHSAA informing him that his son had been named a Heart of a Champion winner.
Horan IV was honored earlier this year at the Patriot Athletic Conference wrestling meet as the most inspirational wrestler. He received a similar award at the NCHSAA regional wrestling competition.
"People appreciate his spunk and his bravery,'' the senior Horan said. "He's very driven to win and tries his hardest. He doesn't understand he wins just by showing up.'' Horan said he also appreciated the way other people in area treat Early Bird.
"I see his chest fill up with air and (him) walk down the hallway with a sense of pride,'' Horan said. "He gets phone calls from friends and everything.''
Including Hunt, some of younger Earl's telephone friends include former Pine Forest football standout Julian Hill, now at Campbell University, and Payton Wilson, Hillsborough Orange football standout who's now a freshman at North Carolina State.
"Without sounding pious, it's reaffirming of the human race,'' senior Horan said.
Cape Fear's Arnette was honored for her diplomatic approach on the tennis court in dealing with lesser opponents in an understanding way.One of the best players in the Patriot Athletic Conference, Arnette never looks down on the opposition or makes them feel inferior.
"I make sure the growing teams are doing their best,'' Arnette said, "that they're having fun and need time to grow.'' She adopts the same attitude toward her teammates. "If they are down I always try to pick them up, no matter what the situation or circumstances,'' she said.
Hunt, Horan and Arnette will be honored with the other Heart of a Champion winners at a luncheon Saturday, April 13, at the Sheraton-Chapel Hill Hotel.
"We are honored to pause and recognize this group of 31 student athletes that have consistently demonstrated the values and traits that we hope all student athletes learn through our programs,'' said Que Tucker, NCHSAA commissioner, in a prepared statement. "This group of award winners are to be commended for their commitment to excellence in sportsmanship and citizenship.''
Photo: Austin Hunt (L) and Earl "Early Bird" Horan IV (R)