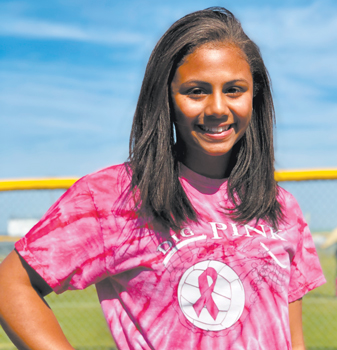 Just weeks after being named the Patriot Athletic Conference softball player of the year in 2018, Gray's Creek High School's Jaden Pone saw her athletic world come crashing down.
During a summer travel softball game, she collided with another player while trying to catch a ball. The result for Pone was a broken tibia and fibula in her right leg, and at least six months away from full participation on the field.
Fast forward to early April of this year. A tough but successful rehab process behind her, Pone has quickly risen to the same level of play she displayed last season.
She's sporting a gaudy .722 batting average, 65 points higher than she was hitting a year ago. She leads Cumberland County players as of April 10 with 29 RBIs. Although she's not the ace of the Gray's Creek pitching staff, she's currently 5-1 with 21 strikeouts in 20.2 innings pitches and a 2.71 earned run average.
"She dealt with it pretty well,'' said Gray's Creek softball coach Stuart Gilmer of Pone's battle to get back to health. "At first she was discouraged she couldn't pick up where she had left off the year before.''
Pone was in Gilmer's weightlifting class, and he saw her commitment to getting well. "She did the physical therapy and exercises she could do in class to try and regain strength in that leg,'' he said.
"She's one of the hardest-working kids I've seen. She was determined to get back to the place she was playing and the level she was playing the year before. She worked really, really hard to get back to that place.''
For Pone, the hardest part was realizing how long she'd have to wait before she could play again.
"My whole life has been going to the field, going to practice, going to a tournament,'' she said. "When you're injured and you're going to be out for six months, it's like a punch in the face.''
She still went to softball tournaments while wearing a protective boot on her injured leg, watching the other players.
It was in December that Pone first began to feel that she was turning a corner in the recovery process. "My dad and I would go to practice,'' she said. "Even when I had my boot on, we would do little stuff. Sometimes I would doubt myself and be sad.''
She worried about not being ready when her rehab was complete. "This could change my whole life,'' she said.
But in December, she finally started to run a little. "It opened my eyes and motivated me to keep doing what I was doing,'' she said.
Running proved to be the biggest challenge in coming back from the injury. "I consider myself fast,'' Pone said. She said some doubted she would be as fast as before the injury.
There was also pain, but Pone said her father helped her push through it. "He made me realize we're always going to go through stuff, but you have to power though it,'' she said.
Now the only lingering problem from the injury is some pain she feels in her knee from time to time.
"My mom tells me everything happens for a reason,'' Pone said. "Instead of looking at it as I broke my leg and I can't play, I tried to look at it as you'll get better and you'll grow and learn from this. You'll appreciate the game more.
"I have such an appreciation for the game, and this can push me to do better.''
Not only is Pone doing better, so is her Gray's Creek team. The Bears recently handed perennial Cumberland County softball power Cape Fear a rare conference loss. As of April 10, the Bears were tied with the Colts in the loss column in the Patriot Athletic Conference standings. Gray's Creek is 12-1 overall, 10-1 in the league, to Cape Fear's 11-1 in both.
"I think we're connecting really good as a team," Pone said. "On and off the field we're really close, so that helps. I'm just really excited for what we have in store.''
Photo: Jaden Pone