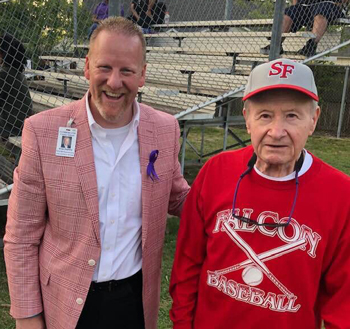 Ted Chappell touched countless lives during his many years as a coach and administrator in the Cumberland County Schools. All those years of service to the young people of the county was recently honored when the baseball field at Seventy-First High School was renamed in his honor.
For years after his retirement from the school system, Chappell was a regular spectator at local sporting events, especially high school baseball games.
But he hasn't been on the sidelines for many months, not since he was admitted to a skilled care facility in Moore County. He is being treated there for Alzheimer's disease.
His daughter, Susan Chappell, is herself a veteran teacher for Cumberland County Schools. She said her father doesn't have a lot of clarity, but every so often there will be a spark and he'll recognize a familiar face.
Susan said the family was approached last October by supporters who wanted to have the field named for her father. "I wish it had come sooner, when Daddy was able to understand,'' she said. "We were very honored and humbled.''
Ron Phipps, Cumberland County Schools associate superintendent for evaluation and testing, was one of those who pushed for the field to be named for Ted.
Phipps first got to know Ted through Susan, who taught with Phipps' wife years ago at Pine Forest Middle School. Phipps was also a school bus driver when Ted headed transportation for the county schools. He later worked with Ted again when the two were administrators at South View High School.
Phipps said he had to educate the people involved in getting the field named for Ted since much of Ted's career took place as far back as the 1960s. Ted came to Cumberland County from his native Chowan County in 1962. He coached at Seventy-First and led the 1965 Falcon baseball team to a state runner-up finish.
He went on to handle transportation for Cumberland County Schools. After retirement, he served as an interim assistant principal at various local high schools.
"He was an all-around great guy,'' Phipps said. "Anybody you talk with talks about how nice he was and (how he) would help anybody.''
Doug Caudill and Greg Killingsworth both played for Ted at Seventy-First. Both later became coaches and school administrators themselves, and both spoke about the huge influence Ted had on their lives and their career decisions.
"Without a doubt, he became like a father figure to all of us,'' Caudill said. "He took care of us and cared about us.
"He could be tough at times when he needed to be, but most of the time he had a very calm demeanor.''
Both Caudill and Killingsworth recalled that Ted used to open the gymnasium at Seventy-First Elementary School on Saturday mornings and let the local youngsters come in and shoot basketball.
"In those times there weren't a lot of places you could go to play basketball,'' Killingsworth said. "He kept me in line and made sure I wasn't in (bad) places I could have been.''
Killingsworth said Ted never raised his voice and never cursed. "He was a Christian man and he led by example,'' he said. "I had the utmost respect for him.''
Caudill agreed. "He was a really special person in all of our lives,'' he said.
Photo: L to R: Ron Phipps, Ted Chappell