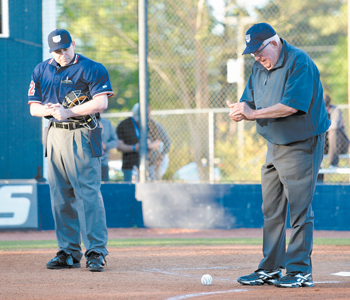 Brad Allen will begin his fifth year as a referee in the National Football League this fall. He's one of a select group of full-time officials working for the NFL. But when he learned his old friend and mentor Neil Buie was pondering retirement as the regional supervisor of baseball and softball officials for the Southeastern Athletic Officials Association, Allen wanted to honor Buie by joining him on the field to call a final game together.
It happened April 22, on the second day of the annual Bulldog Invitational Baseball Tournament at Terry Sanford High School.
The Bulldogs faced South Caldwell in the day's final game. Allen registered as a baseball official with the SAOA so he could call the game behind the plate while Buie worked as the field umpire.
Buie said the final hurrah with him and Allen calling together just kind of happened. "I was talking to Brad about this being my last year, and he told me, 'if you're going to retire, I'm going to register. Because when you go out, I want to be on your staff.'''
Allen and Buie have been working together since 1989, calling some 150 games at the high school, college and American Legion level. They've called multiple state championship events.
Allen described his relationship with Buie as being like family. "I got started in high school baseball at 19 with Neil and Leon Maynor, my mentor in Robeson County who is no longer with us,'' Allen said. "This is very, very special to me to work with someone who taught me so much.''
Allen recalled some of the great baseball umpires he'd worked with in addition to Buie, men like Angus Watson, Jimmy Ratley, Charlie Council and Mike Parnell.
He recalled Buie taught him about the six things you're there to do in a baseball game: Fair, foul, safe, out, ball, strike. There were also things like character, mechanics, philosophy and hustle.
"All of those things epitomize what Neil Buie has meant to me,'' Allen said. "But away from the field, it's also a lot of life lessons about how to be a man, how to be a good father.''
Buie said he was encouraged to get into officiating by a college classmate, when he realized his days as a player were ending.
"My first game ever was with Greenville Parks and Recreation,'' Buie said. That was in 1967. He's been hooked on it ever since.
One of Buie's most memorable nights of officiating took place at a game where he wasn't even scheduled to work. It was in the late 1980s, and the Fayetteville Generals minor league baseball team had just started operation.
J.P. Riddle Stadium, the team's eventual home, wasn't finished when the regular season began, so the Generals played their first few games at what is now Arnette Park on old Highway 87. The game had to be played in the afternoon because the lights at the baseball field didn't meet South Atlantic League standards.
Buie was a spectator in the stands when the late Calvin Koonce, general manager of the Generals, called him down to the field.
The umpires hadn't been told about the switch in game time and weren't there. Could Buie call the game behind the plate?
They scrounged up umpiring gear for him, found someone else in the stands to call bases, and off they went.
During the game, the base umpire and the manager of the Asheville Tourists got into a heated argument about a call, and the base umpired ejected the Asheville manager.
He initially refused to leave the field. Then, Buie walked up and said he'd give him 60 seconds to leave or he'd forfeit the game. The manager told Buie he couldn't do that. Buie replied, "You're down to 45 seconds. It's up to you.''
He left. Buie said Fayetteville won 10-9 in 10 innings. His pay for the day was some tickets to future Generals games.
When the current baseball and softball season ends, Buie will step down as regional supervisor but will continue in a similar role in football. He said he may return to umpire again, if his health will allow it, but that's a decision he's yet to make.
Buie said he'd been pondering giving up the regional supervisor role because the weather has been so bad the last few years, especially this one. He estimates that leading up to the Easter break this season, he's had to reschedule officials some 400 times because of the weather.
"When the weather's 75 degrees and the sun's shining, it's pretty easy to do what I do,'' Buie said. "But when it rains three days out of five, it makes it very difficult and makes for long hours.''
Buie said his biggest thrill over the years is seeing young officials like Allen come out of high school and college and develop into good officials. "The training part is what I'll miss the most,'' he said.
He's especially proud of an official like Allen who has risen to the highest level of officiating as a fulltime NFL referee. "I'm so proud of Brad and what he's done,'' Buie said. "If I had some very small part in it, even better.
"It's my belief that whether Brad had chosen baseball, basketball or football, he could have reached the highest of professional levels in any sport.''
Photo: Brad Allen (left) and Neil Buie (right) called their last baseball game together April 23. Photo credit: Ken Kassens