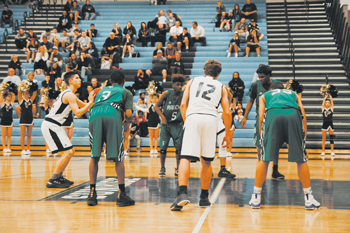 Two complex issues, the athletic status of transgender students and allowing home-schooled students to play for public school teams, were addressed at the May 1 spring meeting of the North Carolina High School Athletic Association Board of Directors in Chapel Hill.
On the subject of transgender athletes, the NCHSAA ruled that when the gender an athlete identifies with differs from the one listed on his or her birth certificate, the student must submit a Gender Identity Request Form to the NCHSAA.
The form lists a variety of supporting information the student must provide to the NCHSAA, which will refer the matter to the Gender Identity Committee for consideration. That committee will include a member of the current NCHSAA Board of Directors, a school administrator, and a physician and a psychiatrist or psychologist with credentials in the area of gender identity health.
Home-schooled students will be allowed to participate in athletics with the school located in the district where they live. They must provide notice to the school principal 10 days before the first practice of the sport in which they wish to participate. They must also provide documentation on such things as attendance, immunization and transcripts before being allowed to play for a high school team.
East Bladen High School's Patty Evers attended her final NCHSAA board meeting May 1. Evers has represented Region 4 for the last four years. The region includes Fayetteville and surrounding counties.
"I think we moved in a positive direction,'' Evers said of the announcements on both transgender athletes and home-schooled athletes.
Evers thinks the new language added to the NCHSAA Handbook for the 2019-20 school year is a good starting point. "Like everything else, there will be tweaks along the way,'' she said.
Speaking specifically about the transgender issue, Evers said she knows there are transgender athletes in some parts of the state and that their parents have questions.
"It's something we needed to do,'' she said. Other action taken by the board at last Wednesday's meeting included the following:
• Wilson, the official ball of the NCHSAA, will be used in all playoff competition for volleyball, soccer, football, basketball, softball, baseball and tennis. Schools that don't use the Wilson ball will be penalized for illegal equipment.
• An increase in fees for officials for five percent will be established every four years starting with the 2020-21 school year.
• Baseball and softball teams can play doubleheaders with both games lasting five innings, subject to mutual agreement.
• Wrestlers can take part in two tournaments per day. But there are limits. They can't exceed any weekly limitations. The two tournaments must be on the same day. Only varsity wrestlers can do this, and only a maximum of three times per season.
• An annual girls wrestling state tournament was approved. The NCHSAA held its first-ever all-girls wrestling tournament this past season on a trial basis. It drew more than 80 female wrestlers from across the state.