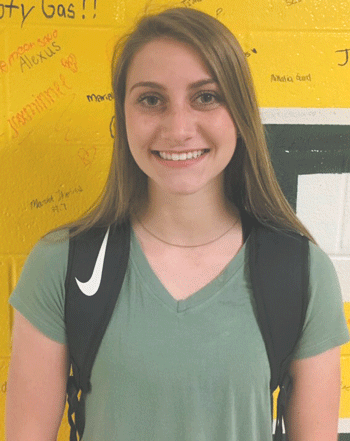 After being in operation for less than two years, the Gary Weller Foundation has enjoyed rapid growth that allowed it to triple the amount of money it awarded in its annual scholarships. After presenting two $500 scholarships a year ago, the foundation awarded a pair of $1,500 scholarships to students at Pine Forest High School this year.
The winners were Allyssa Rancour of the girls soccer team and Tanner Hendricks of the boys soccer team. The award is presented to student-athletes at Pine Forest who had to overcome adversity, befitting of a scholarship presented in honor of Weller, the former Pine Forest football coach. Weller sustained multiple serious injuries some years ago when he was run over by a driver in a stolen vehicle.
Cumberland County Commissioner Jimmy Keefe is a Pine Forest graduate and one of the organizers of the Gary Weller Foundation. He said the foundation was able to dramatically increase the amount of the scholarship awarded this year because of a highly successful Trojan Challenge obstacle course competition that was held last fall. "We're hoping to increase it next year, hopefully with a second annual Trojan Challenge,'' Keefe said.
Keefe said much of the credit for the success of the foundation has to go to Weller, his story and the positive attitude that has carried him through adversity. "Gary has made a lot of friends in this community and has always been an advocate for young people,'' Keefe said. "He continued on after his coaching days, supporting the community and the young. It's more Gary than me or anybody else on the committee.''
In addition to another Trojan Challenge, Keefe said the committee is looking at other ways to raise money for future scholarships.
They've floated an idea of holding a coaching clinic for local high school, middle school and recreation league coaches, possibly using veteran coaches from the area as clinicians or speakers.
"We'd have a symposium and questions and answers,'' Keefe said. "If we did that, we might be doing it during the summer, another way to keep the Gary Weller Foundation in the public eye as we go throughout the year.''
There are several ways to contact the Weller Foundation about making a contribution or learning more about the organization. Email info@trojanchallenge.org, visit the website at www.trojanchallenge.org, or visit the Facebook page, The Gary Weller Foundation.
Photo: Allysa Rancour and Tanner Hendricks