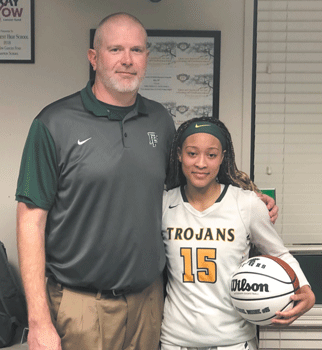 This summer's East All-Star girls basketball team will have a strong Cumberland County flavor. The head coach and three players on the team hail from Fayetteville.
Pine Forest's David May will serve as head coach for the East team in the annual East- West All-Star game. It will be played Monday, July 15, at the Greensboro Coliseum.
The girls will play at 6:30 p.m., followed by the boys at 8:30 p.m.
Joining May as members of his East girls team will be Alex Scruggs of E.E. Smith, Kendal Moore of Pine Forest and Kate Perko of Terry Sanford.
Scruggs was the Player of the Year in the Patriot Athletic Conference while Moore made first team all-conference. Scruggs is going to Wake Forest, and Moore is headed for North Carolina State.
Perko was a second team All-Patriot Athletic Conference selection. She will be playing for Meredith College.
The East All-Star boys basketball roster was announced earlier, and there is one Cumberland County player on the squad. Brion McLaurin of Seventy-First, Player of the Year in the Sandhills Athletic Conference, will perform for the East squad.
L to R: David May and Kendal Moore