Fayetteville Academy and Terry Sanford both enjoyed outstanding success on the soccer field last season, the Academy capturing another North Carolina Independent Schools Athletic Association state title while Terry Sanford went unbeaten in the Patriot Athletic Conference and made the third round of the North Carolina High School Athletic Association 3-A playoffs.
But look for things to be much different at both schools this season. For one, both suffered major graduation losses, especially the Academy, which lost 12 seniors, 10 them starters.
Terry Sanford will be much younger with only three seniors back along with 14 juniors and three sophomores.
But the biggest change for the Bulldogs will be the loss of head coach Karl Molnar, who is taking over as the school's
varsity boys basketball coach.
Replacing him will be another veteran coach in the Terry Sanford program, Steven Barbour.
"I've got big shoes to fill,'' Barbour said. "There's a winning tradition at Terry Sanford and its always daunting to come in behind a coach who was so successful.''
Terry Sanford's Jarred Miller and Andrew Troutman were the offensive and defensive players of the year in the Patriot Conference last season, but both graduated.
Barbour knows he's got a lot of work to do to build chemistry and make use of everyone's talents.
"We've got a deep pool of talent,'' he said. "If we get everyone to work together and utilize their ability, I think we can be competitive.''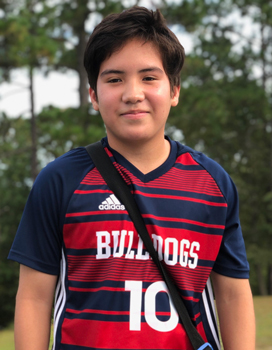 Barbour expects the midfield to be the heart of the team with Davis Molnar, Alex Fox and newcomer Graham MacLeod leading the way.
Another returning forward expected to contribute heavily is Ever Aguero Aranda.
With the coaching change plus having to play all home games at Reid Ross High School while Terry Sanford's stadium is being rebuilt, Barbour expects a challenging season.
"I feel we're in the crosshairs of a lot teams,'' he said. "Gray's Creek, Cape Fear and Pine Forest all have their sights set on us. It's going to be a fun season to rise to the challenge.''
Fayetteville Academy's Andrew McCarthy may have an inexperienced group but said they are working hard to get better every day.
"We've got players playing positions they've never played before,'' he said. "They are certainly improving and that's all we can ask for.''
At this point, McCarthy said he can't claim the Eagles are either a strong attacking or a strong defensive team, just a work in progress.
"The two captains, Cortez Herring and Davis Saint-Amand, are our two seniors,'' he said. McCarthy said the two midfielders have been around the Eagle program for a number of years and will be counted on to provide needed leadership.
Pictured from top to bottom: Davis Saint-Amand, Cortez Herring, Ever Aguero Aranda