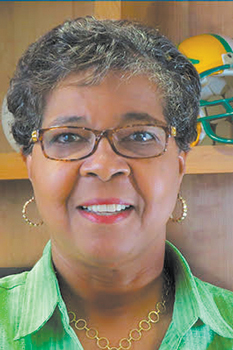 Although we're a few weeks into the 2019-20 high school year, it's not too late to hear some words of wisdom shared by Que Tucker, commissioner of the North Carolina High School Athletic Association. Tucker and several members of her staff visited Fayetteville in August to attend the annual Cumberland County Schools Football Jamboree banquet held at Gray's Creek High School.
I spoke with her briefly and asked if there were any hot-button issues facing the NCHSAA as the school year opened. She said there weren't, but added there are some topics that never go out of style with the NCHSAA.
"It's always just about sportsmanship and behavior,'' she said. "We want our young people to recognize the importance of good sportsmanship, winning with class, being victorious and excited about winning but respecting the fact the other team did lose and practiced and prepared just as hard.''
Health and safety are always big issues for the NCHSAA, especially in the game of football where the concern of how concussions are handled remains paramount.
Tucker said the NCHSAA continues to stress to schools the need for preseason meetings that deal with topics like where the automated external defibri
llator is kept, who the game day administrator is or who's in charge if a thunderstorm hits during a game.
In the end, it's all about the student-athletes. "It's all about educating our young people to be good citizens,'' Tucker said. "If we can do those things, I think we will have accomplished much.''
• Speaking of Que Tucker, she and members of the NCHSAA staff will be back in Fayetteville on Monday, Sept. 23, at 8:30 a.m., for the annual meeting of school officials from the NCHSAA's Region 4, which includes schools from Fayetteville, Cumberland County and surrounding counties. The meeting will be held at the Educational Resource Center.
Last year's regional meeting was canceled because of Hurricane Florence.
The regional meeting gives the NCHSAA staff a chance to have face time with local school officials and to share news about important topics statewide.
Cumberland County will have a larger than normal contingent on the NCHSAA Board of Directors for the next few years.
Brian Edkins, who joined the board as principal at Scotland High School, is now at Cape Fear High School and continues to represent Region 4 until 2022.
Gray's Creek High School athletic director Troy Lindsey is new to the board from Region 4 and will serve until 2023.
Also new to the board is Vernon Aldridge, student activities director for the Cumberland County Schools. He joins the board as an affiliate member representing the North Carolina Athletic Directors Association for an unspecified term.
• Cynthia Miller-Jenkins has been named the varsity girls basketball coach at Riverside Christian Academy in Stedman. The announcement was made by Riverside superintendent Dr. Lin Wheeler.
Riverside is a member of the Carolina Athletic Association of Schools of Choice and played for state titles in 2017 and 2018.
Jenkins was head coach at Northwood Temple Academy from 2005-15, winning three conference titles and one North Carolina Independent Schools Athletic Association state title.
Her career record there was 106-73. Last year she was an assistant coach at Methodist University.
Pictured from top to bottom: Que Tucker, Cynthia Miller-Jenkins