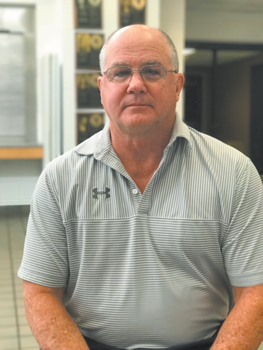 A pair of familiar faces to the Fayetteville Academy family will become the two newest members of the school's athletic hall of fame.
Athletic director and coach Chip Bishop and longtime booster club president Emily Schaefer will be honored at an induction ceremony the night of the school's annual J.L. Dawkins Alumni basketball games Tuesday, Nov. 26.
Bishop and Schaefer were selected for induction by a special committee that includes representatives of the school from various areas.
Head of school Ray Quesnel said as the Academy celebrates its 50th year, the school couldn't have two better honorees joining the hall of fame.
Bishop had been nominated some years ago but declined to be considered for induction until this year.
"With him, it was obviously not a question of if but when,'' Quesnel said. "He's been at the Academy for over 30 years.'' During that time the Eagles have won numerous state and conference titles in a variety of sports. Quesnel said Bishop is respected within the school as well as at the state and local levels.
"He means so much to his former players who come back and see him all the time,'' Quesnel said. In addition to his work at Fayetteville Academy, Bishop has been a football official for the Southeastern Athletic Officials Association and NCAA Division III. For years, he volunteered at the Masters Golf Tournament in Augusta, Georgia.
While at the Academy, he won two North Carolina Independent Schools Athletic Association boys basketball championships.
Bishop said he delayed being considered for induction because he wanted to make sure two architects of much of the school's success in soccer, Andrew McCarthy and Jimmy Maher, were named to the hall before him.
"This is a special place as far as I'm concerned,'' Bishop said. "It's a great honor for me to go in. It's an honor to be associated with these types of people.''
Schaefer was chosen to the hall of fame in the recently-added category of booster. Quesnel said she has served as booster club president for seven of the last eight years. "She's the glue that holds it all together,'' Quesnel said. "She organizes all the chairs of the booster organization, makes schedules and leads people.
"She does so much in a humble way and she doesn't do it for credit. She just does it because she knows it needs to be done.''
Schaefer called her induction an honor and said it was touching for people to realize all the things behind the scenes that she took care of. She called the hall of fame an elite group she felt honored to be part of.