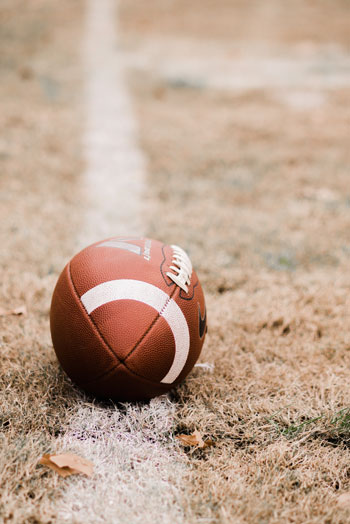 The annual Region 4 meeting of the North Carolina High School Athletic Association was held this past Monday at the Educational Resource Center here in Fayetteville.
I'll have a more detailed report on the meeting in next week's print and online editions of Up & Coming Weekly, but I wanted to share one important piece of news here, especially for football fans.


NCHSAA commissioner Que Tucker and staff shared news of a growing crisis in the area of high school officials available to call games, particularly in the sport of football where the biggest number of officials is needed for a single contest.
In some states like Tennessee, the official shortage has gotten so bad they've had to schedule football games on multiple nights of the week to have enough referees available to call games.
Many officials are quitting because they are tired of the verbal and in some cases physical abuse heaped on them by coaches and fans.


Yes, officials do make mistakes, but there are ways to register your objections through the proper channels instead of attacking officials personally while a game is going on.


The average age of officials in the state of North Carolina is 59-60. It doesn't take a lot of thinking to realize those folks don't have a lot of active years left.


So if you're a former high school athlete or the parent of one who still has some pep in your step and a desire to help out, consider becoming an official in one of the many sports offered by the NCHSAA.


To get started calling games locally, contact the Southeastern Athletic Officials Association. Visit their website at
saoanc.org
or drop a letter to them at P.O. Box 41441, Fayetteville, NC, 28309.
The record: 29-9
I'm still performing at a respectable if not spectacular pace. Last week's record was 6-2, running the count for the season to 29-9, 76.3 percent.
Overhills at Cape Fear - To paraphrase the song from the old TV show Hee Haw, if it weren't for bad luck, Cape Fear would have no luck at all.
The Colts are a far better team than their 1-2 record indicates. I think they'll show signs of that Friday against Overhills.
Cape Fear 24, Overhills 14.
Douglas Byrd at Pine Forest - A couple of weeks ago this would have been an easy pick, but Pine Forest has been somewhat inconsistent this year and appears to have major problems on the defensive side of the football.
That said, this still should be a win for the Trojans, but the final score might be closer than I would have originally thought.
Pine Forest 21, Douglas Byrd 12.
Gray's Creek at E.E. Smith - A frustrating season continues for E.E. Smith against a Gray's Creek team that had a solid rebound last Friday against Pine Forest.
Gray's Creek 31, E.E. Smith 6.
Scotland at Jack Britt - The dress rehearsal is over for Britt. The Buccaneers have gotten off to a great start in Coach Brian Randolph's bid to restore order for his program.
But this is a chance for Britt to make a big statement in a home Sandhills Athletic Conference duel with Scotland and Coach Richard Bailey, the guy who built the Britt football program from scratch.
I said last week I was still drinking the Britt Kool-Aid that Randolph is serving. I haven't given it up.
Jack Britt 14, Scotland 13.
Seventy-First at Pinecrest - I haven't seen Pinecrest but I've spoken to those who have, and they're unanimous on one thing. They're surprised the Patriots aren't getting any attention in the Associated Press 4-A football poll.
Friday's game with Seventy-First could change that.
Pinecrest 21, Seventy-First 14.
Westover at South View - South View seems to have fully recovered from that season-opening overtime loss to undefeated Jack Britt.
South View 24, Westover 6.
Terry Sanford at Rolesville - This is what you call a trap game for the Bulldogs. They're coming off a huge conference win against a big rival in Cape Fear. Rolesville is a team the Bulldogs have no history with and it would be easy for them to overlook this one.
I think the Terry Sanford coaching staff will do everything it can to prevent that from happening.
Terry Sanford 28, Rolesville 14.
Other games: Cary Christian 22, Fayetteville Christian 20; Trinity Christian 27, Ravenscroft 12.
https://www.gstatic.com/images/icons/material/system/1x/more_horiz_black_20dp.png"); background-origin: padding-box; background-position-x: center; background-position-y: center; background-repeat: no-repeat; background-size: 20px; height: 11px; opacity: 0.54; width: 24px;" src="https://ssl.gstatic.com/ui/v1/icons/mail/images/cleardot.gif">