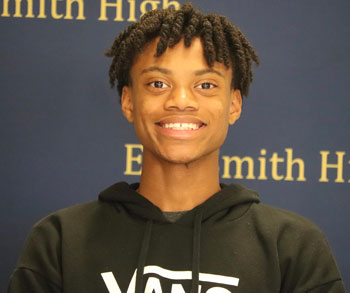 Octavious Smith is only in his second season running cross country for the E.E. Smith Golden Bulls.

Based on his performance so far, there's a pretty high ceiling awaiting him in the years he's got left as to what he can accomplish on the high school level.

"He is a pure distance runner,'' said Roz Major-Williams, one of Smith's cross country coaches, when asked to describe how good he is. "He has so much ability. He does not even know his own ability.''

Smith, a sophomore, dominated the field in the recent Patriot Athletic Conference cross country meet at South View High School.

He won with a time of 16:09.10. Coming in second and third behind him were a pair of Cape Fear runners, Jonathan Piland at 17:04.40 and Julius Ferguson at 17:05.20.

Cape Fear coach Matthew Hanes wasn't surprised at Smith's winning margin.

"I really didn't think anybody would touch Octavius,'' Hanes said. "He wasn't going to be a factor in the team scores, but individually I knew we couldn't touch him.''

Smith said he's run about five times on the South View course and felt comfortable with it coming into the conference meet. "It was a mental race,'' he said as he found himself in the lead nearly the whole way.

"I would just think he was right behind me at all times,'' Smith said of his competition.

Major-Williams said Smith's cross country talent is natural, and the challenge so far has been getting him to open up and go full throttle instead of trying to hold back too much when he races. "Every time he finished he said I could have run faster,'' Major-Williams said.

That showed during the regular season this year as Smith consistently placed among the top ten runners during the regular season meets but rarely came home with an individual win.

"He was trying to save it for the end,'' Major-Williams said. "We finally got him to the point to just go all out and see what he has at the end.''

In the conference meet, Major-Williams decided to give Smith a time of 15:59 to aim for, which he came within about 10 seconds of achieving.

"He took off and still had energy left when he finished,'' Major-Williams said. She's convinced he can break the 15-minute barrier for a 5K run.

He's shooting to qualify for the state cross country meet for a second year in a row.

He'll have to survive this year's regional meet first, which was held prior to the publication of this article on Saturday, Nov. 2, at Northwood High School in Pittsboro.

"I think he has an excellent shot of getting back this year,'' Major-Williams said of the state meet, which is scheduled Saturday, Nov. 9, at Ivey M. Redmon Park in Kernersville.

"If he will just run his race and not be afraid, lay it out on the line, he should make it to the states,'' Major-Williams said. "I think he has a pretty good head on his shoulders. He listens well and tries to follow direction.''

Smith thinks the key to victory at the regional and state levels is simple. "Don't get stuck in the middle,'' he said, referring to the pack of runners.

Both the regional and state meet courses have more hills than the South View course, but Smith doesn't think that's a problem.

"I believe the hilly courses are my strong suit if that makes sense,'' he said.

That and his raw talent for the sport. "It just comes naturally,'' Major-Williams said.