The basketball court at E.E. Smith High School is named in honor of the school's veteran girls basketball coach, Dee Hardy, for a reason.

Her Smith girls have been frequent visitors to the North Carolina High School Athletic Association state 4-A playoffs.

Last year, led by current Wake Forest University freshman Alex Scruggs, they made one of the deepest runs in Smith history.

With Scruggs leading the way, Smith went 30-2, falling only to North Raleigh Christian in the John Wall Invitational and Southeast Guilford in the 3-A Eastern Regional finals.
Southeast went on to win the state 3-A championship, beating Cuthbertson 56-49 in the title game.

The bad news for Hardy is the bulk of the talent on that team came from her seniors who are now departed. Along with Scruggs, the losses include players like Daireanna McIntyre, Danielle Tripp and Trinity Dixon.

Scruggs departed E.E. Smith as one of the most decorated players in school history.

She was the Sandhills Athletic Conference Player of the Year for the 2018-19 season.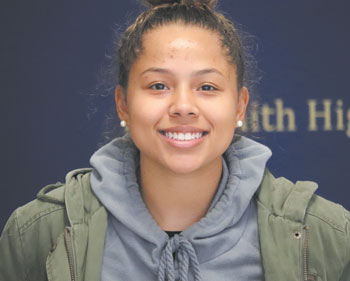 She led Cumberland County Schools in scoring with 26.2 points per game. She was also its top rebounder at 12.8 rebounds per contest.

While three-point shooting wasn't her specialty, she still finished fourth in the county in that category with 45 made shots for the season.

She also contributed 3.2 assists per contest.

McIntyre was the team's No. 2 rebounder behind Scruggs with 6.1 per contest.

But the cupboard won't be completely bare for Smith. First-team All-Patriot Athletic Conference guard Kendall Macauley is back for Smith, along with honorable mention all-conference swing player Keonna Bryant.

Macauley is the leading returning scoring for the Smith girls, averaging 9.3 points per game last season. Bryant is the No. 2 scorer back from last year's team with an average of 7.8 points per contest.

"We are looking for big things from them as far as leadership and direction on the court,'' Hardy said.

Macauley feels she let the seniors down last year, falling just short of making the state title game.

She doesn't think this year's team is feeling pressure to duplicate the record of a year ago.

"If we do what we're supposed to do in practice and execute in games, we'll be fine,'' Macauley said.
Macauley said her focus will be to bring energy to the team and play a mentoring role to the younger players.
"I want to make sure I put them in the right direction,'' Macauley said.

Filling the huge void left by Scruggs will be a challenge, Hardy said. Scruggs, the conference player of the year, led all Cumberland County Schools scorers with 26.2 points per game and a county-best 12.8 points per game.

The job of replacing those points and rebounds will have to be done by a process Hardy describes as by committee.

"We won't depend on one person to pick up the load,'' Hardy said. "It's going to have to be done as a team. We have some young players coming in who have a lot on their shoulders.''
Hardy said they won't have the luxury of veterans playing in front of them to allow them time to take advantage of a learning experience.

"They are going to get it right in the face while they are on the court,'' Hardy said. "That pressure will be on them.''

One returning player Hardy is counting on is 6-foot junior center Jordan Everett. Everett is rehabbing from a knee injury suffered last year and hopes to return sometime close to the December holiday break.

Smith could use her sooner rather than later because Smith will already be playing conference basketball games Friday, Nov. 22 when it faces old rival Terry Sanford.
"We're not going to have a lot of time once the season cranks up,'' she said. "We'll get hit with everything and put them out there and see what happens.''

Hardy isn't sure what to expect from the rest of the Patriot Athletic Conference this season.

She knows Pine Forest lost star Kendal Moore, now a freshman at North Carolina State.

Hardy said she's always wary of South View and its veteran coach, Brent Barker. "I know everybody has been working hard and it's going to be a coin toss to see what happens,'' she said.

She feels Smith has the potential to be in the championship mix but knows that means nothing if the potential isn't developed.

"Because we're so young, it's just talk,'' she said. "Our key is going to be our chemistry. Of course with every team, defense is an emphasis.''

Lacking height, Hardy said this Smith team will have to defend, box out and rebound to compete. "We need to get to know each other and trust each other so we're able to play,'' Hardy said.

Macauley said the Smith team has much to learn, but Hardy will be a great teacher. "As long as we have her staying on top of us we'll be fine for the rest of the season,'' she said.

Picture 1: The basketball court at E.E. Smith is named after Dee Hardy, pictured above.
Picture 2: Kendall Macauley