As far as Cumberland County's high school wrestling gurus can remember, there's only been one three-time state individual champion in the sport in county history.

That honor falls to former Jack Britt star Richard "PNut" Tolston, who finished third in the state when he wrestled for Hoke County in 2012 then won three straight state titles as a Buccaneer from 2013-15.

This fall, Cape Fear's Dallas Wilson, son of Colt head coach Heath Wilson who is also a former state champion, will seek to become the second county wrestler with three state championships.

Heath won his second title last year, competing at 138 pounds. It's sure he'll move up in weight classification this season but it likely won't be until after Christmas before Heath and his father settle on which class Dallas will be competing in for his third state title.

Heath Wilson said his son has reached a level of high school wrestling where he's forgotten more about the sport than Heath knew during his competitive days. "My biggest problem is finding somebody to push him to the next level,'' Heath said of his son.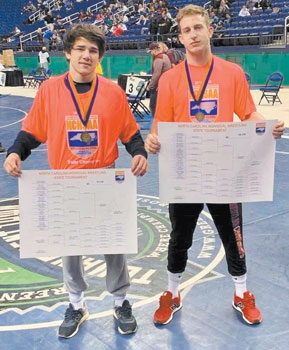 One way he's pushed Dallas to a higher level is by taking him to top national competitions, like the big freestyle tournament held over the summer in Fargo, North Dakota. "In Fargo, I saw a totally different, very aggressive wrestler come out,'' Heath said. "He came out banging.''

Dallas ran into a three-time state champion from Tennessee and rolled to a win.

"He's at a new level,'' Heath said.

Among the biggest challenges Dallas will face this year is the pressure of expectations, but Heath doesn't expect that to be a problem. "It's really nonexistent after all these other places we've traveled to,'' Heath said. "In North Carolina he's got the confidence that he's the best wrestler.

"The biggest pressure he puts on himself is every day in that practice room. He's the hardest-working kid I've got. That's contagious. I like it to be contagious.''

Dallas agreed with his dad that he's become a more aggressive wrestler, coping better with opponents who stay in his face and won't back off, working harder to fight the opposition with his hands and find different angles of attack to knock them off balance.

"You've got to be mean,'' he said. "You've got to have that grit. I definitely picked it up this summer. I have no excuse to lose in a state that I've won twice.''

The rest of the Cape Fear team will be seeking the same grit as it tries to bounce back from a second-place finish to St. Stephens High School in last year's state 3-A dual team championship wrestling match.

The top individual returners for the Colts are Dallas and 220-pound Nick Minacapelli, who placed third in the state in his class last season. He'll be a late arrival this season because of his involvement with football.

"We are looking for the second-stringers to come on strong this year,'' Wilson said. "They've got to perform. I'm just waiting for that first scrimmage to see what comes out of our kids.''
Wrestlers Heath will count on early are Jaleel Parks, Jack Culbreth, Jose Paz and Aiden Barbour, who is the younger brother of graduated state champion Jared Barbour.