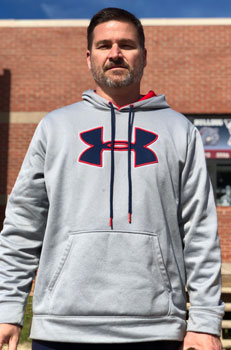 Karl Molnar has seen the perspective of local high school basketball from the sides of a private school and public school coach, going back to his days at Fayetteville Academy and his current role as varsity boys coach at Terry Sanford.
He's keenly away there has been friction between the two groups in the past, but he also thinks the coaches involved share a common bond that should help them pull together.

"I hated there was distance between them,'' Molnar said. "I like to think at the end of the day, your job as coach is to do the best you can.''

In an effort to bridge the gap and get everybody at the same table for a change, Molnar came up with the idea of the inaugural MLK Dream Jam, which will be held on this year's Dr. Martin Luther King Jr. holiday on Monday, Jan. 20, at the Terry Sanford gymnasium.

The schedule will feature a mixture of Cumberland County Schools and local private schools playing head-to-head in both boys and girls basketball games, the action beginning at 11:30 a.m. and continuing through the final game of the day at 7 p.m. A total of six games are scheduled.

Molnar said he tried to involve as many public schools as possible in the event.

Some schools accepted quickly while some others weren't able to commit to the tournament because they had prior obligations or their schedules for this season were already full.
Molnar said a handful of coaches, who he didn't identify, still didn't want to take part in the event.

In determining the matchups for the one-day event, Molnar said he tried to go by overall records and any head-to-head competition that had already taken place.
He is hopeful that the level of talent in this inaugural competition will draw the interest of a number of college coaches.

"We've heard from some coaches who are coming to see the talent in Fayetteville,'' Molnar said. "The hope is as this event progresses over the years, we'll have all the top public schools and all the top private schools playing in the same event.''

Admission to all games will be $10 Molnar said. Fans will be allowed to stay and watch as many games as they like on a single ticket.



MLK Dream Jam schedule

Here is the schedule for the inaugural MLK Dream Jam at Terry Sanford High School as of Tuesday, Jan. 7. The schedule is still subject to late changes:


GIRLS
11:30 a.m. - Terry Sanford vs. Freedom Christian Academy
1 p.m. - Richmond Senior vs. Village Christian Academy
2:30 p.m. - Cape Fear vs. Trinity Christian School


Pictured: Karl Molnar