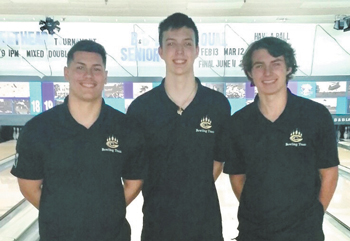 Cumberland County was one of the first school systems in the state to begin offering team bowling to its students years ago, and that has been reflected in the success the county has enjoyed competing in the sport at the state level.

This year, the county brought home a pair of state championships as the boys from Gray's Creek and the girls from Terry Sanford were recently crowned winners at the state finals at Sandhills Bowling Center in Aberdeen.

In addition to the team success, Terry Sanford bowler Rolf Wallin captured individual honors as he was the boys state champion in the same event.

Here's a closer look at the championship efforts of both teams.

Terry Sanford

Susan Brady is in her second year coaching the Bulldog girls. She was a little apprehensive about her team's chances in the state tournament when she learned one of her top bowlers, Avery Schenk, was going to be unable to compete in the tournament due to a cheerleading commitment.

An interesting footnote: Schenk is the granddaughter of Howard Baum, longtime owner of B&B Lanes and one of the originators of high school bowling in Cumberland County.

Terry Sanford defeated a tough Lumberton team in the semifinal round of the state tournament, then took on county rival Cape Fear in the championship match.

Going into the 10th frame, Terry Sanford was clinging to a 142-140 lead.


Brady was hopeful that her anchor bowler, Zoe Cannady, was going to lock up the win for the Bulldogs, but she was unsuccessful.

Fortunately for the Bulldogs, so was the final bowler for the Colts, leaving Terry Sanford with a two-pin victory for the championship. "I didn't have much of a visual reaction,'' Cannady said of the clinching moment for the Bulldogs. "It ended up okay. I felt a lot of pressure and missed that spare. I had to hope for the best.''

Cannady, who bowls for Terry Sanford but attends Cumberland Polytechnic High School, felt the Bulldogs had a great team that encouraged each other during the final match.

Brady said until the final frame, every ball Cannady had thrown had resulted in either a strike or a spare for Terry Sanford. A junior, Cannady will return next year. The major losses for Terry Sanford will be seniors Katie Silas, Abby Carson and Reagan Johnson.

"We've got pretty high chances,'' Cannady said of the Bulldog hopes for another title next season.

Cannady made the All-State team along with fellow Cumberland County bowlers Jayda Gignac of Jack Britt, Ariel Williams of Douglas Byrd and Donna Kerechanin of South View.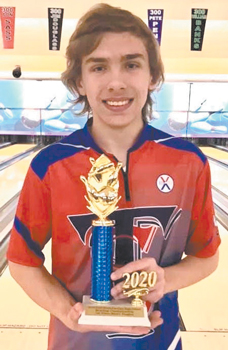 Meanwhile, on the boys' side, the Bulldogs' Wallin rebounded from a fourth-place finish in the conference tournament to capture the individual state title.

Michael Toler, who coaches the Bulldog boys, said Wallin has always been a consistent bowler.Toler said Wallin came up to him during the conference tournament and predicted he was going to qualify for the state tournament. "He did exactly that,'' Toler said. "He was cool and consistent all the way through.''

Wallin went over to the Sandhills Bowling Center before the state championship match to get a feel for the lanes. "When I figured out where to go and adjusted, I had a pretty good game,'' he said. "You have to adjust every single time your ball isn't hitting exactly where you want it to go.''

Wallin didn't appreciate how big a deal a state championship is until he began receiving accolades from classmates and teachers.

"You have to put pressure aside and just bowl your game,'' he said.

Joining Wallin on the All-State boys team from Cumberland County were Terry Sanford teammate Alex Schenk, Douglas Byrd's Brandon Mesa-Turner and South View's Nick Robertson.

Gray's Creek

Kris Williams gave himself a hard act to follow as coach of the Gray's Creek boys bowlers. This was his first season coaching bowling, and he concluded it with a state championship.
Williams said he approached his role of coach as being more of a manager, with the task of setting the five-man bowling lineup for each match the major role he had to perform.

One thing that made it easy was the bowlers he had to work with. "They are blessed by the good Lord with some natural talent,'' he said. "They can do things in the bowling lanes that most people can't do.''

Williams also said the team had good chemistry. "They really get along and are used to working together,'' he said. "They really do support each other, more than just cheerleading.''

The Bears suffered a bad day as a team in the conference tournament, losing two straight to a South View team that was on a hot streak.

Williams expected better after the Bears were second in the regular-season matches. After that disappointing loss there wasn't even time for an extra practice before the state tournament began.

But the Bears rebounded with what Williams said was a true team effort. "One thing that struck me about the whole season, these kids love to compete,'' he said. "That's one thing you want in any sport.''

Sparking Gray's Creek in the finals were regular-season MVP C.J. Woodle and Gio Garcia.

"C.J's got all the natural skills and ability and puts in all the work,'' Williams said. "Gio has a lot of natural talent and is a natural leader.''

"We were kind of upset we didn't win the conference,'' Garcia said. "We knew we still had a good chance at state. We had to step up our game and be more consistent.''

Gray's Creek defeated Hoke County and Jack Britt en route to the title.

Woodle said a lucky break in the sixth frame of the finals helped get Gray's Creek untracked and sparked the team to the win. "I'm proud of my whole team, how much practice they put in,'' he said. "It means the world to come home to Gray's Creek and say we were the state champions.

"I feel we have another state championship team next year.''
Picture 1: Gio Garcia, C.J. Woodle, Hunter Cole.
Picture 2: Zoe Canaddy
Picture 3: Rolf Wallin