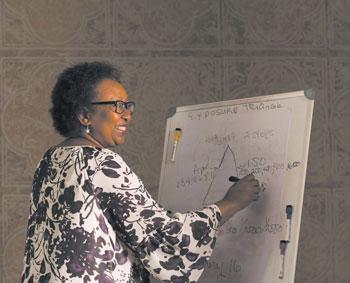 Cherri Stoute said for much of her life she's had a camera in her hand doing either photography or film.
Since 2016, she's had a studio to go with it.
Stoute operates The Studio on Trade Street, a business she found several years ago when she was looking to connect with fellow photographers and filmmakers in the area.
She became a member, and since becoming the owner, she's kept a lot of the features that the business offered when she first joined.
She offers memberships to photographers who don't want the headache of setting up their own studio at home or in a business location.
"They have access to the studio 10 to 20 hours a month to do their own sessions,'' she said. "They don't have to worry about what goes wrong with the building.''
The studio offers just about everything a photographer needs to practice the craft. There are strobe lights, continuous lights, cloth and seamless paper backdrops, props and couches.
There's also a comfortable dressing room for models that includes a makeup dresser. There's also a bathroom.
"They can do full makeup here,'' Stoute said. "They just bring their own stuff.''
Stoute also provides coffee, drinks and snacks.
"It's a comfortable place to relax,'' she said.
But there's more to the studio than just the building.
Behind the studio there's an open field, and when the weather warms up sufficiently, Stoute said it's an excellent outdoor location for photographs.
Photographers can also bring the bulk of their equipment to the studio and leave it there. Walking around Hope Mills in the vicinity of the studio, there are a number of attractive brick buildings that provide good backdrops for all sorts of pictures. Now that Hope Mills Lake has been restored, it puts a backdrop with water into play again, too.
Stoute also uses the studio for teaching purposes. Through Fayetteville Technical Community College, she offers a class on fundamentals of digital photography. She also gives instruction on lighting with flash, studio lights and strobes.
For those who have no photography talent, Stoute makes her services available to take pictures.
Her primary subject matter is people, pets and places. She doesn't do weddings and prefers studio work, but she will visit individual homes to take photos of the family pets.
She also films commercials suitable for airing on television or posting on a website.
"A lot of what I've done is for the internet,'' she said.
There are several ways to contact Stoute if you're interested in renting studio time or her photography or film work.
Email her at thestudioontradestreet@gmail.com. Visit her on the web at thestudioontradestreet.com. Call her at 910-759-3616.
Photo: Cherri Stoute