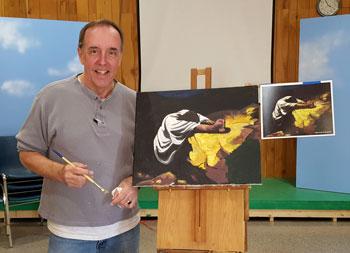 Dr. Bob Kretzu, pastor at Hope Mills United Methodist Church, thinks there's a connection between art and faith.
"Art is an inherently spiritual activity,'' he said. "It's like a meditative, creative process.''
That's why for the second year in a row he's offering something called Paint and Pray. Every Friday from noon until four through Good Friday, all are invited to come to Hope Mills United Methodist Church at 4955 Legion Rd. and work on their own artistic creation while taking part in a time of prayer and meditation.
Before he got into pastoral ministry 25 years ago, Kretzu, a former resident of Honolulu, Hawaii, had extensive experience in the world of art. He started as a child, taking classes at the Honolulu Museum of Art. Eventually he got into industrial design, commercial art and computer graphics.
All that took place while he was out of the ministry. Painting is actually a late addition to his talents. He didn't take that up seriously until 2012.
"It's a really accessible way of using art in a pastoral setting,'' he said of the Paint and Pray gatherings.
He especially likes doing portraits and prefers to work in oils, but for the purpose of the Paint and Pray meetings he tries to keep things simple for potential newcomers to the world of art.
"For working with kids or adults, teaching art, acrylics are so much faster,'' he said. "They dry faster, are easier to work with and wash out with water.''
He got the idea for Paint and Pray when he was pondering what to do for the Lenten season last year at Hope Mills. "This church didn't have a tradition of Stations of the Cross,'' Kretzu said. So instead of actually observing the Stations of the Cross, Kretzu decided to offer people the chance to paint them.
This year, he's shifted the emphasis to the seven days of creation.
People from all over are invited to come and bring their own art supplies and take part. Kretzu said acrylic paint, inexpensive paint canvas and easels are readily available from a number of local businesses.
To keep purchases at a minimum, Kretzu said you can get by without an easel, although he prefers to use one. For colors, he suggests focusing on red, blue, yellow, black and white. He only uses two brushes, one flat tip and one pointed tip. For a palette, he suggests a plastic plate.
Some people have kept things really simple, he said, and just brought a pad of drawing paper and either pencil or charcoal.
"People make their own interpretation, and I think that's a good process,'' he said. "This year we're each doing our own interpretation of creation.''
Kretzu thinks the community aspect of the program helps encourage people both in exploring art and in developing spiritually.
"It's easier to be in a fitness program if you've got an accountability partner,'' he said. "Obviously, some artists do fine working alone, but I think there's a significant number that need that kind of collaboration, encouragement and accountability.''
For those with no background in art, Kretzu is glad to lend his guidance and expertise.
He shares advice on choice of colors and tips on how to create an image.
"We try to get it all done within four hours,'' he said. "It involves simplifying the image. I go around and help people with color mixing.''
Kretzu said he once read a story about a ballerina who was asked after a performance what it meant to her. He said the ballerina replied, "If I could have put it in words I wouldn't have danced it."
"When you paint, there is something spiritual I believe that happens, whether you are painting a sacred subject or not. There's a spiritual dialogue going on. You meditate on the subject matter.''
Newcomers are welcome to join the weekly sessions each Friday from now until Good Friday on March 30. For more information, contact Kretzu at the church at 910-425-0108.
Photo: Dr. Bob Kretzu