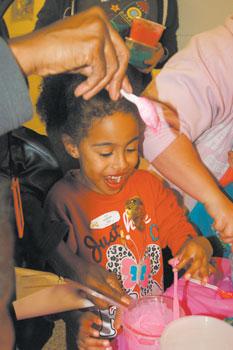 Science Night is always a big deal at Gallberry Farm Elementary School, but it was made even bigger this year thanks to a grant from Duke Energy.
Vicki Smith, a retired Cumberland County Schools principal who works part-time as an assistant principal at Gallberry, wrote the grant proposal that took this year's event at the school to a new level.
"I had heard from some other counties about the quality of the Duke Energy grant and the neat science activities they provided,'' Smith said. "You apply in August, you hear in October, and they send it to you in February.''
Gallberry was one of 150 elementary schools around the state that received the grant this year. There is no specific dollar figure applied to the grant, but what it offers is 10 science-related activities with enough supplies to allow 200 people per activity to take part.
"It gave the teachers some inspiration and energy as we did something different,'' Smith said. "It also offered us some new ideas.''
Gallberry principal Dawn Collins said that's important when teaching a subject like science.
"The basic goal is to expose kids to science in a fun way so it's not looked at as a boring thing, so they'll know there's a bit of science involved with just about everything you do,'' she said.
Collins gives much of the credit for Gallberry's science night to third-grade teacher John Harskowitch. "We call him our resident mad scientist,'' Collins said of Harskowitch, who headed the committee for the science night. "Anything that has to do with science, his hands are all in it.''
This year's array of experiments exposed the students and their parents to a host of different scientific concepts.
At one display, they got to try out a green television screen like meteorologists use when sharing news about the weather.
Another station featured the chance to explore buoyancy by building a small aluminum foil boat. They also made their own version of the famous slime made popular on the Nickelodeon television network.
Some students made pan flutes from straws or built towers out of marshmallows.
There were also experiments in magnetic painting, building a simple catapult, and constructing paper parachutes and trying to hit a target on the floor with them.
There was also a special bubble-making demonstration that actually wasn't part of the experiments, although there was a bubble-making station for the children to experiment with.
Also on-site was Kelvin, the official robotic mascot of the North Carolina Science Festival, which is held in April. Although the Gallberry event was held about a week before the state event starts, it was still considered a part of the state festival thanks to the Duke Energy grant.
"I think this kind of event shows kids the breadth of science and how it reaches into every part of their lives,'' Smith said. "It's more than just a book or a complicated thing. It's part of everything we do.''
Photo: At one station, students made their own version of the famous slime made popular on the Nickelodeon television network.