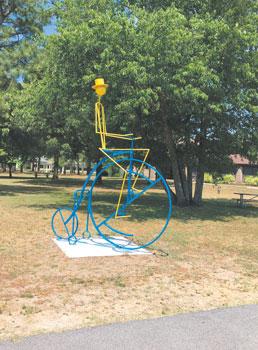 The town of Hope Mills is known statewide for opportunities it offers for athletics, recreation and senior citizens. Now Mayor Jackie Warner is trying to expand its cultural horizons by putting a little art on local display.
It's been two years since Warner went to a meeting of the Arts Council of Fayetteville/Cumberland County on behalf of Hope Mills to learn about ways she might bring art into the community.
About the same time, her son, Teddy Warner, was working with the city of Laurinburg when it had a relationship with the University of North Carolina at Pembroke to try and do the same thing.
Warner's idea was to get outdoor sculptures to be displayed in public locations like Hope Mills Lake and the park near Town Hall.
She spoke with Adam Walls, a sculpture instructor at UNC-Pembroke.
Walls came and made presentations to the Hope Mills Town of Commissioners. The plan was for the town to spend $3,000 on purchasing materials for Walls' art students at Pembroke. In return, they would create original works of sculpture with the town-purchased materials and give them to the town.
Laurinburg didn't have an agreement with the students on what happened to the art, so Warner and Hope Mills struck a deal. At the end of a year of display, the town could have the option of buying the art from each student, at a cost of $300 per sculpture, based on 10 sculptures for the total of $3,000 for materials.
If the town doesn't buy the artwork, it will go back to the student and the town will get a new piece to replace it.
For future funding for the project, Warner said she spoke to Deborah Mintz of the Arts Council about writing a grant and getting funding from the council.
"The Arts Council would love to help fund this project so that it will instill in Hope Mills the same kinds of things they're trying to do in Fayetteville and other areas,'' Warner said.
The sculptures began showing up in Hope Mills earlier this month, some at Hope Mills Lake and some near Town Hall.
Warner said the various projects now on display are largely constructed from recycled metal, everything from old grate and drain covers to metal poles.
Warner said she hopes to continue putting art on display in other ways in the near future. Part of the upcoming lake celebration in Hope Mills will include art and jazz performances.
"We're going to have artists down there painting and doing sculpture,'' she said. "We're just trying to promote art in Hope Mills.''
For the time being, Warner said, the focus on art will be outdoors, dealing mainly with metal sculpture.
In the long term, she'd like to offer painting, but finding a place to display paintings is a problem.
"We have to come up with a venue or display area,'' Warner said. There is a possible limited option for display in Town Hall, she said. The parks and recreation building wouldn't be suitable because it's so busy.
Warner said the town may have to limit art displays to those times when special events are going on like the lake celebration.
Once the town builds its long-awaited museum to celebrate its mill village history, Warner said that's a possible location to display local art.
"I'm tickled we are doing this,'' she said. "This was something I wanted to do way back when I was first elected mayor and couldn't get the support for it. Once the Arts Council got involved and they started offering the opportunity for Hope Mills, it just fell into place.''