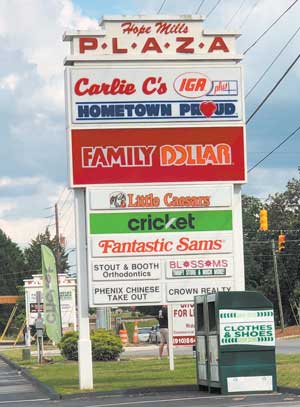 Thinking about putting up a sign to advertise something in Hope Mills? Do yourself and the town a favor by checking first with Chancer McLaughlin, development and planning administrator for the town. You could save his department and yourself some headaches.
McLaughlin and his staff oversee the good, the bad and the ugly of the signs that pop up all over Hope Mills. They recently sent out a mailer to all the businesses in town with a refresher on what is and isn't allowed by the town's sign ordinance.
That ordinance takes up about 14 typed pages. Why so much reading material? McLaughlin said it's because there's a lot of ground to cover.
McLaughlin said the sign ordinance stretches to14 pages not because there are so many different signs, but because the rules covering how different signs are regulated tend to be layered.
Since a person or a business may only be looking at one type of sign to install, McLaughlin said there may be only a couple pages in the sign ordinance that apply specifically to them.
If there's one sign McLaughlin said the town is most likely to have a problem with, it's what's called a flag sign.
Flag signs are portable or moveable signs not meant to be permanently attached to the ground or a building. Sometimes businesses use flag signs, and that's where problems arise.
"The sign ordinance allows flag signs for the grand opening of a business for a period of a week,''McLaughlin said. "You can't have a flag sign that's a permanent attachment.
"In addition to providing information about the sign ordinance, the mailer the town recently sent out to local businesses about signs alerted the businesses that Hope Mills plans to become more aggressive in its handling of violations.''
But McLaughlin and his staff haven't exactly been ignoring the sign issue in Hope Mills. At least every other Friday, and sometimes more often if they notice an increase in illegal signs, McLaughlin and his co-workers do sign sweeps of Hope Mills.
Normally, McLaughlin said, his team divides the town into quadrants,focusing on the commercial areas, and take one quadrant each Friday of a sweep. Their aim is to cover the whole town in the space of one month. On some days, they'll tackle a larger area.
While on these tours they also try to educate people they encounter on what signs they can and can't use.
He noted nearly all the signs you see posted on public right of ways advertising various small businesses are against the rules.
On some weekends, McLaughlin said, his team picks up as many as 60 signs. And the sweeps continue.
"As fast as we keep picking them up, they keep putting them down,'' he said. "We have to be very consistent with continually putting the message out there.''
If you have questions about what signs are legal and illegal, contact McLaughlin's office at 910-426-4103.