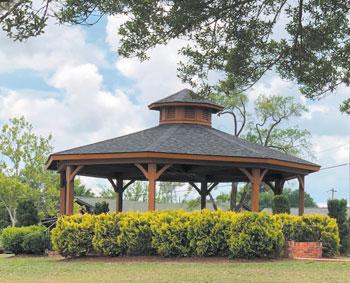 What was going to be a celebration of jazz at Hope Mills Lake has expanded to include a celebration of the arts as the town hosts its first Art and Jazz at the Lake event next month on Monday, July 2. It will be from 6-9 p.m.
A day earlier, the town will observe music of a different kind with Church at the Lake, beginning at 6 p.m.
Dr. Bob Kretzu, pastor at Hope Mills United Methodist Church, is helping coordinate both events because of his obvious connections with faith groups and his avid hobby as a painter.
Kretzu said the initial plan was to just have a jazz festival, but organizers felt adding art might be a good fit. "They invited me to provide leadership for that because of my art background,'' he said. "It will be a great night with cool jazz and artists painting at the lake shore. There will be activities for kids, water coloring and partnering.
"We are partnering with Kid Creative Studios to make sure there is plenty of stuff for kids.''
A jazz group with ties to Fayetteville Technical Community College, the All-American Jazz Quintet, will anchor the jazz performances. "They have a pretty wide repertoire,'' Kretzu said of the band.
In addition to the jazz performance, the grassy area at the lake will be occupied by various North Carolina artists, with arts and crafts booths set up.
"People will have a chance to try their hand at arts and crafts and buy arts and crafts,'' Kretzu said.
Tables will be set up for children to enjoy painting or drawing.
Representatives from the Hope Mills senior citizens recreation group will also be on hand, Kretzu said. "One of the things they'll emphasize is weaving mats out of plastic grocery bags,'' Kretzu said. "They'll be there demonstrating how to do that and giving people a chance to do that.''
There will also be a balloon artist on the premises, Kretzu said. And, there will be plenty of food available.
Big T's will be open adjacent to the lake with its usual fare, and at the other end of the lake, at least three food trucks will be operating. Kretzu doesn't know exactly which three trucks will be on the scene, but he said the plan is to make sure that they are trucks that don't offer the same fare as Big T's so people will have a variety to choose from. In addition, the road over the dam and spillway will be closed to vehicle traffic so people will be able to walk around more freely.
All those planning to attend and enjoy the jazz performance, which will be based at the gazebo at the Big T's end of the lake, are advised to bring their own portable chairs or blankets to sit on and enjoy the music.
"My understanding is they will be performing during that whole time,'' Kretzu said. "They will take breaks.''
Parking will be available at various businesses across the street from the lake. There will be other designated parking, and there will be lights in the grassy area of the lake park so there won't be any dark areas.
As for Church at the Lake on July 1, the performance will begin at 6 p.m. A gospel band from Hope Mills United Methodist Church, Common Ground, will be the featured group. Other scheduled
music will be provided by Highland Baptist Church and Grace Place on Main Street in Hope Mills.
Kretzu said there would be no formal liturgy, no sermon and no offering collected. The emphasis will be on audience singalong and group musical performances. The performers will all be at the gazebo, and spectators are again urged to bring their own chairs or blankets for seating.
Kretzu said he hopes both events will become annual activities in Hope Mills.
For further information on either Art and Jazz at the Lake or Church at the Lake, contact Kretzu at 919-638-5827 or bkretzu@hotmail.com.