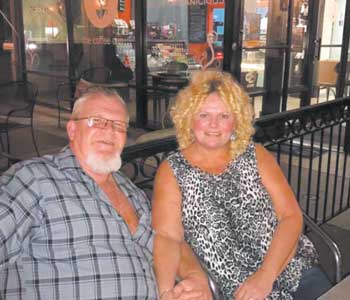 Got a simple house cleaning or a real homeowner disaster on your hands?
Big or small, Aprilmarie Fields of Fields Helping Hands in Hope Mills is ready to take on the challenge.
Fields, who relocated to Hope Mills from Kentucky about four years ago, brought her Fields Helping Hands cleaning business with her and has many satisfied clients in and around Cumberland County.
Fields and her crew will tackle just about anything, from standard vacancy and residential cleaning, some commercial cleaning, all the way up to what she calls hoarding situations.
"That's when you walk into the house and you can't walk because there's garbage on the floor,'' she said. "It's just piled up knee-high through the whole house. There are people that live like that.''
When tackling that kind of situation, Fields has a simple solution. "You take it one room at a time,'' she said.
She's only had to deal with three hoarding situations in her years in Hope Mills and Cumberland County, she said. The typical job is a residential cleaning. "You go in the house and dust everything, vacuum, mop, like you would clean your own home,'' she said.
A vacancy cleaning involves scrubbing down the walls and baseboards along with the mini-blinds, as well as pulling out the refrigerator to clean behind it. "Every surface gets wiped clean,'' she said.
Fields also has a lot of requests from people who are connected to the military for what she calls a PCS clean. PCS stands for permanent change of station for someone who's gotten orders to move out and relocate to a new assignment. "We do a vacancy clean so they can leave for their next station,'' she said. Fields, who is retired from the military herself, said she also offers military discounts to her cleaning clients.
Fields said she normally books about three weeks to a month ahead, but in emergencies like PCS situations, she can try to work a case into the schedule.
She normally works with her crew of 10 assistants from 7 a.m. to 6 p.m. Monday through Friday. They will rarely work on Saturday but always take Sunday off.
Fields said she's willing to do cleaning outside of Cumberland County, but for extended trips there need to be at least two or three homes or places to clean.
She provides free cleaning estimates. The cost isn't based on the size of the area to be cleaned, it's determined by just how big a mess the owner or tenant has left.
"One person's house could be the same size as another person's, but the other person isn't as clean as the next person,'' she said. "It's by the job.''
Fields said she's never come across a hazardous waste situation during a cleaning job, but she's even equipped to handle that up to a point, with protective clothing, masks and gloves as part of her traveling equipment.
If you're interested in talking to Fields about a cleaning job, check her Facebook page at Fields Helping Hands. She's also listed in the Yellow Pages. Her phone number is 606-425-6117.
PHOTO: Aprilmarie Fields and husband Larry