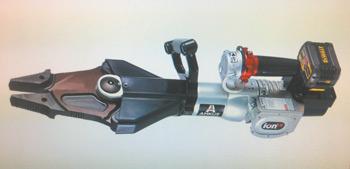 By the end of this month, if folks from Hope Mills find themselves trapped in a car or stuck inside a building with doors that don't open, they can breathe a little easier when the Hope Mills Fire Department arrives on the scene.
That's when Chief Chuck Hodges expects to have a new piece of equipment in the fire department's assortment of extrication tools that will make the job of getting people out of tight spots easier.

The town's board of commissioners recently approved the purchase of a device known as a combi-tool, which serves the dual purpose of cutting through surfaces or spreading doors or entryways open.
The fire department already has extrication equipment in its assortment of gear, but this new device is a distinct improvement.
"It runs off a battery instead of a hydraulic pump,'' Hodges said. "The advantage of that is it can be put into service immediately instead of having to take a pump off the truck and hook up hoses.''
The fire department's existing extrication equipment is powered by an external motor connected with hydraulic hoses. It operates using a gas-powered engine, which is noisy and produces carbon monoxide, so it's sometimes challenging to use when there's an extrication involved in a home situation.
The noisy engine is also a problem when there's a child or animal being extricated from something. All that racket along with the trauma of being stuck can be extremely unsettling.
That's not a problem with the new combi-tool, Hodges said. "It's quiet,'' he said.
And at 50 pounds, 34 inches long, 10 inches high and 10 inches wide, it falls into the category of what firefighters consider a lightweight piece of equipment. The device comes with a charger and two rechargeable 60-volt batteries.
Hodges said battery life will vary with what the device is being asked to do and how long the power has to be turned on.

The fire department won't be getting rid of its other heavy-duty extrication equipment, Hodges said. But he added that if the fire department needs to cut the roof off a pinned car or open a jammed door inside a house, this device can do the job much quicker than with the older equipment that requires a little longer to set up.
"By the time you pulled all the other equipment off the truck and got it hooked up and running, you could have done what you needed with this one,'' Hodges said.

When the new device does arrive, Hodges said it will be necessary to train his firefighters in its proper use. He doesn't expect that to take long because its operation is similar to equipment that the Hope Mills Fire Department already has.

"We never put any equipment in service until everybody is trained,'' Hodges said. "It's a good thing it's similar to what we already use. The functionality of it is going to be the same.''
Even if the device is delayed in shipping, Hodges estimates in the worst case it will be available for use at accident and fire scenes by mid-September.

"I just think it's going to enhance our capabilities and enhance the service we provide for our citizens and visitors to the town,'' he said. "We're excited about it.''