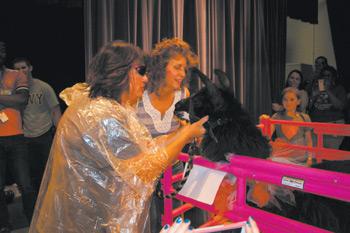 In past years, Gallberry Farm Elementary School Principal Dawn Collins has kissed a rabbit and a pig at the school's annual Fall Festival.
Now she's bracing to pucker up for a llama. Again.
The vote to determine if Collins or Assistant Principal Natasha Norris gets to be a little too personal with the llama is one of the highlights of this year's annual event. It's scheduled for Friday, Oct. 12, from 5-8 p.m. at
the school of about 1,000 students.
Collins started the festival about eight years ago after becoming principal because she felt they needed some kind of community outreach that would involve the school and surrounding area.
"We talked about a spring fling, but so many children are involved in sports in this community (that) we decided the response would be better in the fall.''
The event is always scheduled on the same Friday when Gray's Creek High School has an open date on its football schedule. Collins said that's because she borrows a host of volunteers from the high school student body, pulling from organizations like Future Farmers of America, Student Government Association, National Honor Society, JROTC and the school's technology academy.
"We truly do not have enough staff to pull this off on our own,'' she said.
She was briefly worried that Hurricane Florence was going to disrupt this year's football schedule and possibly wreck the festival, but she remained hopeful things would work out, and they did.
After Hurricane Matthew hit the area in 2016, Collins said Gallberry had the most successful fall festival in school history. She's hoping for similar results this year. "People were looking for something happy and positive to do,'' she said. "That's what we're hoping now. We know there is a lot of loss in the community. We are hoping we can bring them back together for something lighthearted.''
For Collins, that probably means kissing a llama again this year. Last year she lost the vote to Norris, and she's already fearful it will go against her again this time.
She plans to use the same strategy for kissing the llama as last time.
"I tried to go to the side, kiss him on the side of the mouth, and when I did, he turned his whole face to mine,'' she said. "The kids love it.''
Anyone from the Gallberry or Gray's Creek community is welcome to attend, whether they have a child attending the school or not, Collins said.
An entry fee of $10 gets you an armband that pro- vides admission to a host of activities, the highlight of which is the haunted hallway, a hallway in the school building that features child-friendly scares and thrills. There will also be a trunk-or-treat event and unlimited access to an assortment of games.
The armband also covers a hot dog, drink and chips.
There will be additional food items on sale that can be purchased either for cash or with tickets that can be bought on-site, $5 for 20 tickets. All transactions on site will be cash. An ATM will be available.
Collins said the festival is by far the school's biggest fundraiser each year and holds a special place both for faculty and students.
"It makes me feel very positive about the culture of our school,'' she said. "It's just a great community event.''