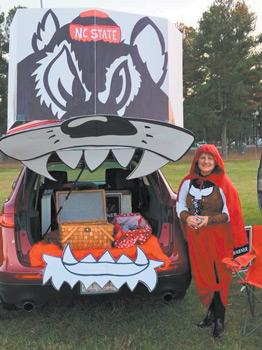 The Town of Hope Mills will hold its annual Trunk R Treat celebration on Halloween night this year from 6-8 p.m. on the athletic fields at Hope Mills Municipal Park on Rockfish Road. But the preparation for the event is going to be a little different from past years.
Meghan Hawkins, recreation programs supervisor for Hope Mills Parks and Recreation Department, said there will be a deadline to register to have a vehicle at the event and there is a form individuals and businesses need to fill out to take part.
"This is the first year we actually have a registration form,'' she said. "It gives us the option to track who we've got, who's coming, how much space is needed and also to establish some guidelines and policies regarding the night of the event.''
Anyone planning to bring a vehicle and give out Halloween treats at the event must fill out a registration form and return it by 5 p.m. on Oct. 22.
In addition to gathering information about the person or business taking part in the event, the form includes information about what is and isn't allowed at each individual display.
As in the past, participating vehicles in the Trunk R Treat will be parked on the outfield area of one or both fields at Municipal Park.
Hawkins said vehicle check-in for the vendors will begin at 4:30 p.m., and all cars or trucks must be in the field area and parked by 5:30 p.m. Late arrivals will not be allowed to enter.
There will be no electricity available on the field, so any displays on cars that need electric power will have to get it from the vehicles themselves or from batteries. Portable generators are not allowed on the field.
The actual Trunk R Treat will run from 6-8 p.m. Once vehicles are in place on the field, they will not be allowed to leave the area until the event ends at 8 p.m.
Businesses are encouraged to take part and are allowed to give out items to promote themselves.
All candy or edible treats given away must be pre-wrapped. No homemade goods of any kind are permitted.
Hawkins stressed that the Trunk R Treat is both family-friendly and kid-friendly. There should be no adult-themed displays or costumes.
Displays should not be designed to attack or disparage anyone, and no profanity or alcohol are allowed.
There are two contests currently planned in conjunction with Trunk R Treat, Hawkins said, one for best decorated trunk and one for most original.
Judging of both contests will begin at 6:30 p.m., and the winners will be announced at 7 p.m.
Copies of the registration form are available on the town of Hope Mills website or the Parks and Recreation Department Facebook page.
For those who need to meet someone face-to-face about the event, the recreation department offices are temporarily located in Town Hall on Rockfish Road. For other questions, call 910-426-4109.
Photo:Mayor Jackie Warner at last year's event.