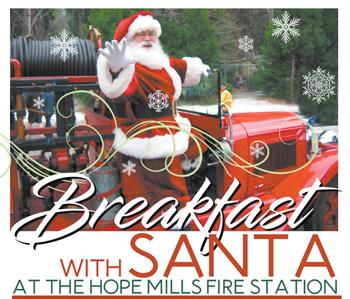 There will be plenty of the familiar red coloring on the premises, but the traditional Breakfast with Santa gathering in Hope Mills this year is moving to a different location.
Instead of the Hope Mills Parks and Recreation Center, children and their families will be gathering at the Hope Mills Fire Station on Rockfish Road on Saturday, Dec. 15, for the annual pre-Christmas breakfast and social time with Santa Claus. The event is scheduled to begin at 8:30 a.m. and wrap up around 11 a.m.
Breakfast with Santa has been a Hope Mills tradition for about 10 years said, Meghan Hawkins of the recreation department.
It had to be relocated to the fire station this year because the recreation department building is still undergoing repairs from damage sustained from Hurricane Florence this fall.
There are a limited number of tickets available for the breakfast, so anyone interested needs to contact the recreation department as soon as possible to purchase one. Children under the age of 3 will be admitted free but will still require a ticket to gain admission. All tickets are $6 per person and can be purchased at Town Hall, which is located at 5770 Rockfish Rd.
The deadline for getting tickets is Monday, Dec. 10, which is the date the town has to notify the caterer how many to prepare breakfast for.
Since the fire station will be open for business as usual during Breakfast with Santa, some or all activities related to the breakfast may have to undergo changes if there are active fire calls while breakfast is taking place.
No parking will be allowed in front of the fire station, Hawkins said. All those attending should park behind Hope Mills Town Hall and the Parks and Recreation Center building.
Barring any complications, children will get a chance to eat with Santa, interact with him and take pictures. Members of the South View Key Club will be on hand working as elves helping serve breakfast, with an assist from the firefighters at the station.
The breakfast menu will include eggs, pancakes and juice with a choice of bacon or sausage.
For information on the breakfast, including getting tickets, contact Hawkins at 910-426-4109 during regular business hours.