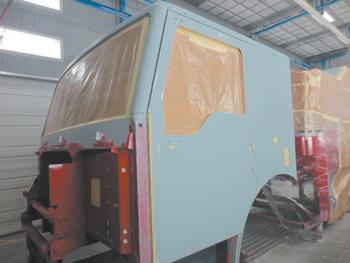 Work is in progress on a new multipurpose fire truck for Cotton Volunteer Fire Station on Calico Street in Hope Mills. It will be a welcome addition to the vehicles currently in use.
Hank Harris is deputy chief of the Cotton station, a position he's held for nearly 35 years. He said the new truck, which is scheduled to be delivered by May, will replace an aging 2003 truck made by American LaFrance, which went out of business in 2014.
The old truck was capable of a variety of roles, including vehicle extrication and water rescue. It could also handle support roles at various emergency scenes, Harris said.
Since American LaFrance is out of business, it's become harder to find replacement parts for the old truck, he added. But that's only part of the problem. Times have changed, and the Cotton fire station finds itself called on to perform different kinds of jobs. Harris said the fire station has advanced from a medium to a heavy rescue unit. As a result, the station has had to add more equipment, some of which doesn't fit on the old truck.
That means in some situations, the equipment has to be stored on two trucks instead of one. When two trucks need to be dispatched to a call to make sure all the needed equipment for the situation is available, that's a problem.
The new truck is being made by a Wisconsin-based company called Pierce Manufacturing. A contract was signed to start work on the new truck in April of last year.
The new vehicle is not a firefighting truck per se; it's more of a support vehicle, Harris said. "It has no hoses or anything like that, but it has all the hand tools and equipment required that gives us our ratings,'' Harris said. The truck can be dispatched to certain rescue situations by itself without a firefighting truck being present.
One of the biggest differences between the two vehicles is the number of people the new one will hold. Where the old truck could only handle four passengers, the new one will allow seven.
Harris said the new truck will have a walk-in body that allows firemen access to a climate-controlled area where they can take a break and rehab during fire situations.
"They can get out of the heat, cold or whatever they're in,'' Harris said. "(They can) get in a better state of mind.''
The new truck will also solve the problem of splitting equipment between two trucks. It has extra space available to carry an assortment of tools for vehicle extrication or road rescue.
Equipment the truck carries includes axes, pike poles and ladders.
With the recent increase in flooding situations in the Hope Mills area, the new truck will provide a needed benefit. "We can actually put an inflatable boat on top of the truck,'' Harris said. "It will increase our water rescue capability.''
Harris said firefighters won't need additional training when the new truck arrives as all of the Cotton firefighters are already schooled in taking advantage of the truck's various capabilities.
Since Cotton Fire Station serves not just Hope Mills but a good portion of the southern end of Cumberland County, the new truck will be a benefit to many, Harris said, in a variety of situations. "We can put more manpower on that truck,'' he said.