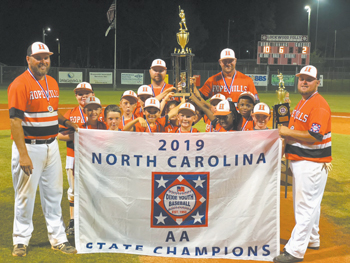 Hope Mills has had many Dixie Youth Baseball state champions, but last week, the Hope Mills National team made history by winning the town's first 8U state championship.
In the championship round of the winners bracket at Lockwood Folly, they fell to Reidsville 10-7 for their only loss of the tournament but rebounded to win the title with a 10-2 victory over Reidsville.
Left to right: Coach Jonathan Ransom, Hunter Matthews, Dallas Lupo, Colby Cox, Tanner Parrish, Joshua Ransom, Colt Burns, Landon Lusignan, Gavin Bowen, Coach Joshua Lusignan, Noah Rivera, Coach Jesse Cox, Ziriyon Campbell, Aiden Peterson- McAlexander, Corey Cox and Coach Jonathan Lupo.
Hope Mills advances to the 8U Dixie Youth World Series, which will be held July 26-30 in Ruston, Louisiana.