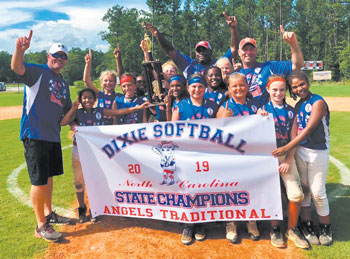 If you're looking for raucous celebrations from coach Doren Kolasa and his Hope Mills Angels 10U state champion Dixie Youth softball team, you'll quickly be disappointed.
"We don't jump up, and we don't act silly,'' Kolasa said of his team when they win. But it's not because they're an unhappy bunch — just a respectful one. "We teach them to stay humble. Make sure (they) understand somebody lost. We have time to celebrate later.''
Kolasa's team has been doing a lot of celebrating so far in the run through the state Dixie Youth 10U tournament. The team now finds itself headed to Alexandria, Louisiana, and a trip to the 10U Dixie Youth World Series.
Kolasa has been pleased with the way this 12-player group of all-stars has meshed in the postseason.
"I think they the first thing is communication,'' he said. "It's hard to get players to communicate.''
In addition to communication, Kolasa has some genuine talent on the team, starting with pitcher August "Little A" Kebort. "This is a girl people need to watch,'' he said. "She struck me out the other day in practice.''
Kebort has been striking a lot of people out. In 20.2 innings, she has 52 strikeouts. She's also the team's top hitter, with an .850 batting average.
Another pitching standout is Haylee Lamb, who has 17 strikeouts in 9.2 innings. A surprise addition to the rotation is Jaycee Parnell, who was the catcher most of the season. In the postseason she's pitched 8.2 innings with 19 strikeouts.
Parnell is also a leading hitter, with a .650 batting average, along with Kolasa's daughter, McKinley "Boo Boo" Kolasa. She's batting .556 and is also a defensive star at first base. Another defensive standout is Jazelle Young at third base.
At press time, the full schedule for the World Series had not been set.
After opening-day ceremonies July 26, Hope Mills is scheduled to play Georgia in the first game of the nine-team double elimination event July 27.
"For the last three or four months, we've told them defense wins championships,'' Kolasa said. "Nothing is going to change. We always talk about focusing on fundamentals. Stick with basics. That seems to dial them in pretty good.''
Anyone wishing to make a last-minute contribution to the team before they leave on July 25 can contact the Hope Mills Youth Association via its Facebook page.
Adults: Head coach Doren Kolasa, assistant coaches Brandon Boone and Mike Johnson
Players: Haylee Lamb, Lizzie Johnson, Dania Berry, August Kebort, Olivia Herron, McKinley Kolasa, Meadow Critchfield, Jazelle Young, DeeDee Rivera, Kenzie Smith,
Jaycee Parnell, Zee Owens