The goal of making the town of Hope Mills more accessible to pedestrian traffic by adding sidewalks came a step closer to reality recently as the town was awarded another grant from the Fayetteville Area Metropolitan Planning Organization.
"We typically get a grant every year through them called the transportation alternatives grant,'' said Chancer McLaughlin, development and planning administrator for the town.
Work is already underway on sidewalks in the area of Rockfish Road near the town's municipal complex.
The new grant, which is $445,540, will extend sidewalks the length of Main Street starting at the intersection of Johnson Street/Fountain Lane and Main Street down to the intersection of Trade Street with Lakeview Road and Main Street.
The grant covers 80% of the sidewalk cost with the town providing the other 20%.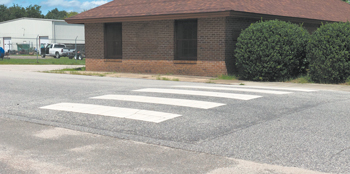 There are existing sidewalks on the side of Main Street closest to the lake, but on the opposite side they stop at Johnson Street just past the railroad trestle.
In addition to the new sidewalks, the grant money will help cover the cost of adding a new
crosswalk about halfway between the two intersections as well as enhancing the existing crosswalk at the Trade and Main intersection.
McLaughlin said the new crosswalk will be a so-called raised mid-block structure made of brick.
The existing crosswalk will be modified in a similar matter.
He described it as a "traffic-calming" structure, similar to a speed bump, but a little more decorative with brick construction material.
The ultimate goal of the new sidewalks is to follow the guidance of the Southwest Cumberland Land Use Plan, which has specific suggestions for adding sidewalks in the Hope Mills area.
McLaughlin said this will continue the aim of connecting the Town Hall and Municipal Park area on Rockfish Road with the restored Hope Mills Lake on Main Street to make it a pedestrian-friendly zone.
The long-term goal once all the sidewalks are completed is to give those people who are interested and able the ability to conveniently walk from the municipal complex to the lake, thus hopefully decreasing the need for cars in what is already a highly congested area.
"There is not much public parking at the lake, so we are trying to create a better balance between vehicular traffic and pedestrian traffic while keeping it safe,'' McLaughlin said.
While work continues on the Rockfish Road sidewalk and is yet to begin along Main Street, McLaughlin said it's too early to establish a definite timetable on when the entire project will be finished.
Picture 1: The stretch of Main Street opposite Hope Mills Lake where sidewalks will be extended
Picture 2: Raised crosswalks, similar to this one, will be added on Main Street but will be constructed with brick to be more decorative.