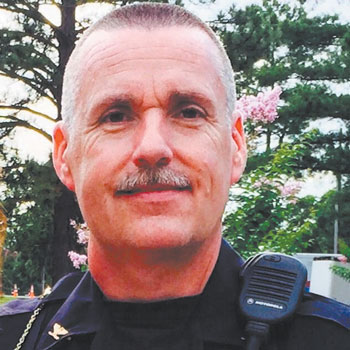 The town of Hope Mills scored the ultimate win-win for its police department last week as the Board of Commissioners voted unanimously to add a specialized armored vehicle to the rolling stock of police chief Joel Acciardo's department.

The best news about the acquisition is the vehicle won't cost the town a cent.
The commissioners voted 5-0 to accept an Oshkosh M-ATV from the U.S. Military Law Enforcement Support Program. Estimated value of the vehicle is $767,360.
"We are eligible to receive equipment from the federal government as long as it's used for law enforcement purposes,'' Acciardo said.
In addition to being lightly armored, Acciardo said the M-ATV has what's called deepwater fording capabilities. "We'll be able to use it for deep water rescue operations,'' he said.
Acciardo said the town already experienced a situation where a vehicle like the M-ATV would have been helpful — during Hurricane Matthew in 2016. Residents of the retirement center on Cameron Road had to be evacuated because of rising water there. "That pretty much cemented the usefulness of vehicles like that for us,'' Acciardo said.
But deepwater rescue isn't the only thing the vehicle could help with, and Acciardo is hopeful it never has to be used for this purpose.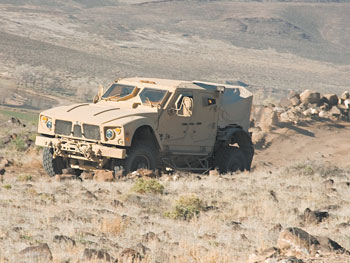 "One of the things we identified early on that we needed was a vehicle that would allow us to get closer to victims and place officers closer to where an active shooter is,'' he said. "The M-ATV matches all those requirements. You have high ground clearance, deepwater fording capabilities and it's lightly armored.
"That kind of checks a whole bunch of blocks.''
Acciardo said there are other companies that make vehicles similar to the M-ATV, but they are extremely expensive and out of the price range for a smaller agency like the Hope Mills Police Department.
With the donation of the M-ATV from the military, Acciardo said the only cost to Hope Mills will be to get it here, license it and paint it.

While Hope Mills has mutual aid agreements with other local police departments and would get their cooperation in an active shooter situation, Acciardo said time is of the utmost importance, and having its own specialized vehicle here improves the Hope Mills police's chances of responding quicker.
Acciardo said the M-ATV the town is getting is about nine years old and has less than 60,000 miles on it.
The vehicle's cab has room for a driver and four passengers. The rear area of the vehicle can be used to carry either cargo or more people.
A training program will be required for those who will operate the vehicle. He estimates anywhere from five to six senior police officers will be trained as drivers so the department can assign one driver per shift to be available if the vehicle is called into service.
He estimated it'll take about 90 days to be able to put the vehicle in service, hopefully by mid-November or mid-December.
With proper care and maintenance, he estimates the town could get up to 20 years of service from the vehicle.
"You won't see it in a parade, you won't see it at a demonstration, you won't see it on patrol,'' he said. "You'll see it when there is a weather event, a natural disaster or, God forbid, an active shooter situation.
"That's the whole purpose of it, to have the resource and hope you never have to use it. You have to be prepared in today's world.''
Picture 1: Chief Joel Acciardo
Picture 2: M-ATV similar to the one Hope Mills is getting