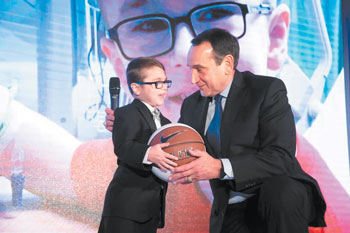 Pictures and videos of 7-year-old Creed Kolasa don't show anything unusual except a youngster with an effervescent smile who quickly charms his way into the hearts of anyone he comes in contact with.
"He is so funny,'' said his mother, Jessica Kolasa. "He comes up with the most off-the-wall comments. And he has no filter. He loves people and his smile just melts you.''
He is a huge fan of dinosaurs, with Tyrannosaurus Rex his clear favorite. His mom isn't sure why, but she thinks possibly it's because of the dinosaur's ferocious roar.
With his cherubic face and small stature, Creed doesn't look like a formidable adversary, but he, his family and all the available tools of modern medicine are fighting back with everything they have against a potentially fatal disease that has beset him since birth.
Creed is among an estimated 200,000 people worldwide suffering from a rare disorder called Duchenne muscular dystrophy. Creed's body is unable to produce a protein called dystrophin that helps with normal muscle function.
He was born four weeks premature and suffered issues with breathing and jaundice. At one time, it was thought he would need a liver transplant.
Creed's father, Doren Kolasa, was transferred to Fort Bragg not long after his Creed's birth. Although the family lives in Eastover, Doren is a successful coach in the Hope Mills Dixie Youth program.
He led his Hope Mills Angels 10U team to the Dixie Youth state title last summer and a berth in the Dixie Youth World Series in Alexandria, Louisiana.
Creed plays youth sports in Hope Mills, currently competing in the 8U fall baseball league.
Jessica eventually took the infant Creed to the emergency room at the University of North Carolina after being unable to find a doctor in Fayetteville who would treat a patient as young as Creed.
It was at UNC Hospitals that a resident who had studied Duchenne made the diagnosis when Creed was six months old.
She said the family was told at the time there were no treatments for someone as young as Creed. So Jessica Kolasa began her own quest to find a doctor somewhere who would give Creed the weapons he needed to fight Duchenne.
"I started reading what kind of therapies have helped slow the progression of the disease and the natural history of it,'' she said.
Eventually, they turned to Duke University and found Dr. Edward Smith. Smith is an associate professor of pediatrics at Duke in the division of neurology.
"I'm the doctor here who sees all the kids with suspected or known muscle and nerve diseases,'' Smith said. "We follow about 140 Duchenne patients now, kids and adults.''
Duchenne is unique to boys, Smith said, and in most cases you don't see outward signs of the disease until two or three years of age. He said they look essentially normal by the age of three or four and then signs appear like not being able to keep up with children their age or having difficulty standing or going up and down stairs.
Over time, things get worse. They lose the ability to walk by age 10 or 12, then eventually lose arm function. Since the heart is a muscle, it is also affected over time. By the time the patient reaches the age of 30, they are in a wheelchair and can barely move.
Standard care of Duchenne includes administering steroids, which basically help the patient to walk a little longer. The Kolasas went to Duke to try an experimental therapy that it offers.
Creed was originally taking a drug called Vamorolone, a newly synthesized steroid molecule. It basically does the same thing the other steroids do, with hopefully fewer side effects.
Currently, he's switched to another drug that helps his body with a process called Exon skipping. In layman's terms, this drug is sort of a molecular patch. The faulty gene in Creed's body is tricked into producing the dystrophin protein that helps his muscles do their job.
Smith said it's not the normal level of dystrophin that the body produces, but any dystrophin that can be created will slow the advance of the disease and help Creed to live as normally as possible for a longer time.
Research is ongoing into even better ways to get the body to produce the needed dystrophin Smith said. Advanced gene therapy is looking at a way to deliver a micro dystrophin gene through a virus that would carry the gene to the muscles and turn on dystrophin production. "There are currently three trials going on in the United States with three different companies,'' Smith said. "It looks promising.''
Life goes on at a hectic pace for Creed and family. He has regular occupational and physical therapy sessions, along with speech therapy, to help him battle what the lack of dystrophin does to his muscles.
He makes weekly visits to Duke for an infusion of the Exon, skipping medication he's currently using. He's had 115 visits to date. In each one, he undergoes an hour-long infusion of the drug, then has to wait an additional hour to be observed for a reaction.
Not surprisingly, he's no stranger to all the folks at Duke. "He is on a first-name basis with half the hospital,'' Smith said.
That is likely one of the reasons Creed was front and center at the recent Duke Children's Gala, an annual benefit held to raise money for Duke Children's.
Blue Devil basketball coach Mike Krzyzewski and his family were honored for their support of Duke Children's. Creed was called to the stage to share his story, and to receive an autographed basketball from Krzyzewski.
I just loved Creed being able to go up on stage and tell his story, lighten up the room,'' Jessica said, "being able to bring awareness to Duchenne and raise some money for the hospital.''
But while the moment in the spotlight was special, Jessica and her family face the reality of daily challenges seeking the best care for Creed while raising a family of three other children ages ranging in age from 12 to three.
"It's a tough balance,'' she said. "There have been a lot of tears shed by my other kids when they wanted to do something and know they can't because I can't pick them up at that time.
"It really pulls on my heart because I've had to see them mature faster, but the love they have for him (Creed) overshadows all of that.''
Meanwhile, Jessica says she and her family pray daily for a miracle that will deliver Creed from the grip of Duchenne and allow him to lead a normal life.
"We also have learned life isn't about things, it's about memories,'' she said. "We try to soak in everything we can, possibly soak in with him and all four kids.
"That's what life's about. Making memories.''
And keeping them alive as long as possible.
Pictured:Creed Kolasa gets autographed basketball from Duke coach Mike Krzyzewski.
Photo credit: Les Todd for Duke Children's