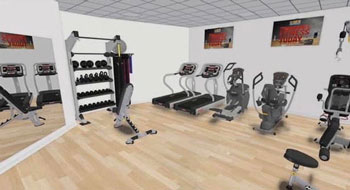 The fitness room at the Hope Mills Parks and Recreation Center is getting a complete makeover and should be ready for use again when the new year rolls around in 2020.

Kasey Ivey, who has been with the parks and recreation department for six years, said the existing facilities date back roughly a dozen years and the time has come to upgrade them.

Ivey said conversations about both upgrading the equipment and relocating the workout room to a different part of the parks and recreation building have been going on for about two years.

The discussion was partly prompted by the age of some of the equipment. "Just like anything, things run their cycle, new models come out, things become more difficult to repair and replace parts,'' Ivey said.

There had been some minor modifications made to the room in recent years, Ivey said. The existing space was long and narrow and had no windows, so mirrors were installed to add the illusion of more space and openness.

The available equipment in the room included two treadmills, two elliptical machines, two recumbent bicycles, four pieces of circuit equipment for weight training, a biceps and triceps machine, a leg extension machine and a lat pull down and chest press.

Soon after the parks and recreation center reopened after repairs to damage caused by Hurricane Florence were completed, Ivey began to get estimates on what it would cost to replace equipment in the room and expand it elsewhere in the building.

The new fitness room will move to an area formerly used as a game room where a foosball table, pool table and some other game equipment was housed.

Most recently the new room had been used for meeting space and as a conference room.

Starting Oct. 12, the current workout room was closed to begin work on relocating everything to the new space in the building, or in some cases permanently moving it out.

The new equipment for the upgraded room will not arrive until sometime in December. The current fitness room will transition into a multipurpose room and meeting space.

The upgraded fitness room will have mirrored walls along with two smart televisions.

In addition to a new location in the building, the new room will include some new equipment.

One of the new pieces will be a seated elliptical machine. There will also be a section for free-weight training with medicine balls, dumbbells and kettle bells. There will be no plated free weights, Ivey said, just dumbbells.
There will also be a TRX machine that allows a variety of workouts for the user.

Mats will also be available for people to do various types of floor and stretching exercises.

A small bench will be provided for people to sit and do bicep curls or whatever they like. There won't be a bench press, but there will be a circuit piece that offers a chest press.

Ivey estimates the new fitness room will be at least twice as big as the current one. Another benefit, she said, is it's located on a corner of the building that has windows and will allow natural light into the room.
People will still access the fitness room via the main lobby at the parks and recreation room. It will be available during normal hours of operation, Monday through Friday from 8 a.m. until 8:30 p.m. and Saturdays from
9 a.m. until 5 p.m.

To use the equipment, people will still have to fill out the parks and recreation department's registration form required of anyone who uses the building's services.

Ivey is also working on a set of fitness room guidelines.

"A lot of it is no-brainer stuff about wearing the proper footwear, no food or drinks other than water, things you see in most workout and fitness room facilities,'' she said.

Ivey said the guidelines will be posted in the room once it opens and also on the town website.

"Part of our goal and purpose is to be the hub of wellness for the community,'' Ivey said, "not just physical fitness, but all the different things collectively that we offer.''

Once the room is ready for use, Ivey said plans are developing to hold an orientation to help people get acquainted with the new equipment to make sure that it's being used safely and properly.
If the equipment arrives early enough, Ivey said the room could be ready to use before Dec. 31. People can check on the progress of the room at the recreation department's Facebook page or on the town's website.

"We want a place that gives everyone an opportunity to workout inside,'' Ivey said.