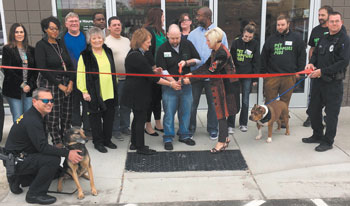 Tony Mello is the manager of the newly opened Pet Supplies Plus in Hope Mills at the intersection of Main Street and Camden Road in the former Eckerd drugstore building.

But Mello doesn't really care that people refer to him as the store's manager. He'd be happier if you just called him neighbor.

"I'm from Hope Mills and have been here for 17 years,'' said Mello. "The whole idea behind Pet Supplies Plus is we don't have customers, we have neighbors. We are that big-box store to go shopping in minus all the hassles.''
Mello said the store is a win-win for pet owners of all types in the Hope Mills area.

"This is somewhere you are going to want to come,'' he said. "We want to get on a first-name basis with our neighbors — not just our neighbors, but their pets.''

Customers will get a feel for the special interest the staff at Pet Supplies Plus has for them whenever they visit the store. "I hire for personality, but I also need pet people,'' Mello said of his staff. He said one of the first questions he asks any potential employee is do they own pets."I love to see their faces light up when you ask their pet's name,'' he said. "The first thing they show you is the pictures (of their pet) in their cellphone.''

Pet Supplies Plus is independently owned but part of a chain of some 400 stores, based in Cleveland, Ohio.

On the premises, you can purchase live birds, various small animals, reptiles and live fish. Among the more exotic animals the store sells are chameleons, crested geckos and leopard geckos.
The store doesn't sell dogs and cats, but arrangements are being made with several local pet adoption agencies to come in on weekends and help people pick out a pet.

One of the store's major features is a full, self-service grooming facility.

Shampoo, towels and a blow dryer are available, and the store staff takes care of cleaning up and sanitizing the area when customers finish using it.

If need pet food, the store carries everything for dogs, cats, reptiles, guinea pigs and ferrets to name few animals. If a customer has a special need for something not in stock, they'll work with you to make a special order.
The store also plans to offer clinics with a traveling veterinary service.Two are already scheduled for next year, one on Jan. 28 and one on Feb. 25. The hours for both are from 5 p.m. until 7 p.m.

"You can come in, see a vet and get vaccinations in house,'' Mello said.

Regular store hours are from 9 a.m. until 9 p.m. Monday through Saturday and 10 a.m. to 6 p.m. on Sundays.