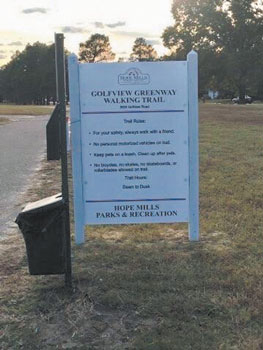 Kasey Ivey of the Hope Mills Parks and Recreation had already been talking with Rebecca Skiba of the North Carolina Wildlife Resources Commission about coming to Hope Mills to discuss nature programs the town might be able to offer.

That was before Dec. 3, when a member of the town's maintenance staff spotted a coyote on the newly-opened Golfview Greenway Walking Trail at the old municipal golf course.

When Ivey posted the news on the Parks and Recreation Facebook page, she was surprised at the response.

"It sparked 56 comments and 187 shares,'' she said. When Skiba came to Hope Mills for a scheduled visit on Dec. 9 to tour local nature-related sites around the town, Ivey shared with her the news about the coyotes at the golf course. Skiba, who is the outreach education specialist for the southern coastal region of the state, said she would be available to make a presentation on co-existing with coyotes.

So Skiba will return to Hope Mills on Wednesday, Jan. 29, at 6 p.m. at the community room at the Hope Mills Recreation Center to talk about coyotes.

There is limited space, so people interested in coming to the presentation need to reach out to Ivey as soon as possible. Her email address is kivey@townofhopemills.com.

Ivey wants to make sure enough people are interested in the meeting to make Skiba's trip to Hope Mills worth her time, since she travels a great deal and covers such a large area of the state in her job.

Both Ivey and Skiba stressed that the presence of coyotes at the new greenway is not a cause for panic, and people who plan to use it shouldn't be fearful or jump to any conclusions about the animals.

Skiba has a Bachelor of Science degree from the University of Georgia and has worked in North Carolina for the past four years.

She said the biggest problem with coyotes is that people don't know a lot about them and they tend to be afraid of what they don't know.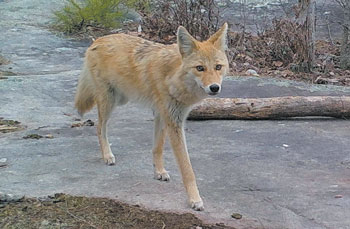 Coyotes are present in all 100 of North Carolina's counties, Skiba said, adding it is difficult to regulate the population. One of the main aims of her presentation will be to educate the public on the difference between a perceived threat a real one.

The primary rule of thumb with coytotes, she said, is live and let live. "We've never had a case in North Carolina where a coyote has attacked and harmed a human being,'' she said.

But that doesn't mean that every living thing is safe around coyotes. They are omnivores, Skiba said, which means they eat everything from vegetables to bugs to fruit. And, unfortunately, some small animals.

That's why any greenway walkers with pets, especially small ones, need to either leave them at home or keep them on a leash, as they could be potential prey for the coyotes.

If a human sees a coyote, it's fairly easy to shoo them off and go about their business. "They don't stalk you,'' Skiba said.

It is possible for a coyote to be rabid, but unlikely, Skiba said. Wild animals at the top of the list to develop rabies are raccoons, skunks and foxes, Skiba said. "Coyotes aren't really high up on the list.''

In the event anyone encounters an animal exhibiting odd behavior, they should contact local animal control authorities immediately.

Skiba said typical early onset rabies behavior in animals includes being disoriented or appearing in public places while making no attempt to hide or protect themselves. "Not all rabies is the foaming at the mouth phase,''
she said.

For her presentation in Hope Mills, Skiba said she plans to discuss the history of coyotes in North Carolina, the ecology involved and how they affect other species in the state.

She will also present different options of coyote management, but added that her presentation will not be dealing with any kind of program the town as a whole can put into place, just things to be done on an individual basis.

"This is a general information session to dispel myths and fears that are out there,'' Skiba said, "also to bring up certain things that people can keep in mind to make sure they are not attracting coyotes if they don't desire to have them.

"We go about our daily lives and we don't consider the ways we impact or attract wildlife. I'm just trying to bring those up as well.''

If anyone has specific questions about coyotes or other wildlife in the Hope Mills area the best way to reach Skiba is via her email at rebecca.skiba@ncwildlife.org.

There is also a Wildlife Helpline at the North Carolina Wildlife Resources Commission which allows callers to speak to a trained biologist and ask specific questions about wildlife behavior, wildlife-related damage or injury and co-existing with wildlife. The number is 866-318-2401.