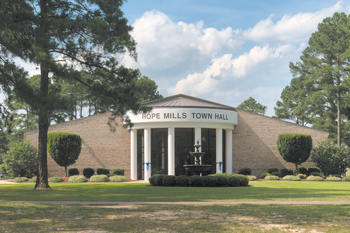 For the fifth consecutive year, the town of Hope Mills is preparing to conduct its annual Citizens Academy program. Designed to teach town citizens the basics of local government and administration, it was created by current town manager Melissa Adams.

This year's sessions will begin on Tuesday, Feb. 11, and continue for eight consecutive weeks, with the final session scheduled for Thursday, March 17. That's the only session that won't be on a Tuesday and was necessary to mesh with the fire department's schedule.

After the opening session, which will introduce the participants to all the department heads from the town, each session will deal with a specific area of town administration or government. The initial session will include an explanation of the town's council-manager form of government and the roles of the members of the Board of Commissioners.

The departments involved include police, fire, parks and recreation, planning and zoning inspection, infrastructure and public works, finance and budgeting, stormwater and town hall administration.

Most of the classes are held at the department being studied that week, with hands-on opportunities to work with some of the equipment like the police and fire departments use, among others.

In the session on town finances, each participant will get a chance to craft a budget for the town.

All those interested in taking part need to complete the online registration form at www.townofhopemills.com and email it to town clerk Jane Starling at jstarling@townofhopemills.com. It can also be faxed to 910-424-4902. The program is limited to a maximum of 15 people to allow more individual attention and to make touring the various locations where the class is held easier.

The usual cutoff for applications is the Friday before the first class, which this year will fall on Feb. 7.

A graduation ceremony for all participants is scheduled on Thursday, April 2, at a meeting of the Hope Mills Board of Commissioners. Each member of the class will receive a plaque from the town for completing the course.
If you have questions about the program, call Starling during regular business hours at 910-426-4113.