It's taken Melode Dickerson nearly 14 months to get a Teen Community Emergency Response Team going in Cumberland County, but once things fell into place, the idea took off like a ballistic missile.

Dickerson, who has been active for years in the Cumberland Emergency Response Teamm program locally in Hope Mills, first trotted out the idea of involving teenagers in their own CERT program around December of 2018. For whatever reason, response was slow to the idea and Dickerson was never able to get it launched successfully.
Undaunted, she continued to promote the overall mission of CERT, which is devoted to training citizen volunteers in disaster preparedness and helping people in crisis situations. She continued her dream of introducing teenagers to the program. "We go everywhere,'' she said of her mission to educate Cumberland County on what CERT is all about.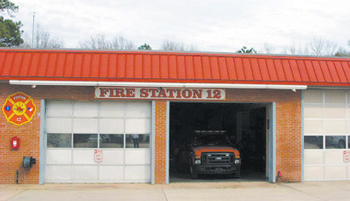 The Teen CERT idea got a huge boost when Dickerson was contacted by Moisbiell Alvarez, deputy chief of community preparedness for the Fayetteville Fire Department. Like Dickerson, Alvarez was interested in getting a Teen CERT program organized.

"We had done a lot of stuff with them and they wanted to be involved,'' Dickerson said of the Fayetteville Fire Department.

Dickerson was glad to welcome the assistance. "Cumberland County Emergency Management is still our sponsor,'' Dickerson said, "but we are supported by the Fayetteville Fire Department.''

This past weekend, the first class of teen volunteers for the CERT program underwent training during a weekendlong series of classes held at Fayetteville Fire Station 12 at 307 Hope Mills Road.

Only 24 people can attend a class because of space limitations at the station. Originally, Dickerson had a full complement of 24 students, but only 21 were able to attend the initial weekend of classes. The class sessions were from 6-10 p.m. on Friday and from 9 a.m. to 5 p.m. on Saturday and Sunday.

Dickerson said the basic message of the classes is how to be prepared and how to help lend assistance to victims in a variety of disaster situations.

"They learn basic medical and how to put out a small fire,'' Dickerson said. They got hands-on training in the firefighting role by putting out small controlled fires set in the fire station parking lot.

The training goes far behind first aid and firefighting, Dickerson said. There are sections on dealing with basic terrorism. A new session includes how to react to reports of an active shooter. There is also basic search and rescue training.

In addition to getting valuable training that they can use as a life skill, Dickerson said taking part in Teen CERT training can help the students earn volunteer hours for any number of projects that may be required by various school-related clubs and other organizations.

Once they complete the training, students receive a certificate recognizing what they've accomplished. The state of North Carolina keeps a record of the number of volunteers trained, Dickerson said.

Marc Baker Jr., a freshman at Pine Forest High School, was one of the participants in the first Teen CERT graduating class.

A member of the band at Pine Forest, Baker said he decided to get involved with Teen CERT because he wanted to do something to benefit the community.
"First aid is something I want to get into,'' Baker said. "I feel it's important because we need future doctors, future first responders.

"I feel like this class could really put us on the course for that.''

Currently, Dickerson said she's recruiting students in grades 9-12 for work with Teen CERT. She already has a class scheduled for a group of Girl Scouts.

The next open training session for Teen CERT is scheduled for June 12-14. There is already a waiting list for that class. Dickerson suggests any teens that are interested should apply as quickly as possible to capefearcert@gmail.com.

Students themselves can submit the application but parents are also invited to make applications for their children if they are interested in
the program.

The email should include the applicant's name, address and phone number, so they can be registered.

For people who can't commit to coming to training sessions on a Saturday and Sunday, Dickerson said she could work with interested groups of teen volunteers and work out an alternate date for the class if there is a large enough group interested in attending. Contact Dickerson at the same email address if interested.

Dickerson said she welcomes contact from churches or adults as well as teens to hold special class sessions for CERT or Teen CERT if enough people are interested.
She also does presentations on the basic mission of CERT, but since the Teen CERT program has taken off her time has been monopolized in coordinating the sessions associated with that program.

"We do have a presentation we can show that we have put together,'' she said. "Maybe after this class, things will be a little slower.''