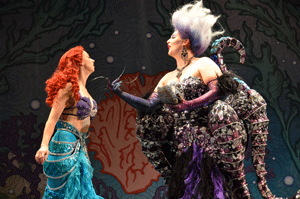 Many readers may already be familiar with The Little Mermaid either from the animated Disney movie or the original story by Hans Christian Andersen. Mermaid princess Ariel longs to be human and goes to the surface to observe them. During a storm, she rescues Prince Eric and falls in love. When her father, King Triton, forbids here from returning to the surface, she makes a deal with sea witch Ursula to get back to Eric.

Cape Fear Regional Theatre took the classic story, added stunning costumes from the Arkansas Repertory Theatre, threw in circus performers from 2 Ring Circus, flavored it with an amazing set and topped it off with a tremendous cast. Voila, you've got the makings of a fabulous show for all ages. It runs through Feb.12.

It is difficult to choose what I liked best about seeing Disney's The Little Mermaid at the CFRT. Hearing the songs and being part of the audience singing along was fun. Seeing the aerialists performing a ballet in the air was terrific. By the end of the show, what I enjoyed most was seeing this musical locally produced here in Fayetteville in top-notch fashion while showcasing some CFRT regulars.

Director Melissa Rain Anderson is to be commended for pulling it all together. Lani Corson did a great job as Ariel. Her performance as the main character delivered everything we want in a lead. She's very talented on several counts. Helen Regula was so good as Ursula, the sea witch, I found myself rooting for her. I almost wanted it to become an octopus story so I could see and hear more of her on stage. Regula portrays the big baddie under the sea with a deliciously evil passion.

The costumes by Rafael Colon Castanera make the show a spectacular sight. I could write a thousand words about how great they are and how much dimension they add to the musical. I wanted to sneak backstage afterward just to see how the costumes were put together and what they are made of (but I didn't CFRT, I didn't).

The way CFRT blended visiting talent with regular CFRT contributors really made it an over-the-top production. Scenic Designer Kimberly Powers and Scenic Artist David Rawlins deliver an unbelievable set that puts you under the sea and in a palace with equal attention to detail and flair.

Locals rounding out the cast were fabulous, bringing favorite characters to life. Deon Releford-Lee as Sebastian, the courtly crab, steals every scene he is in. His performances of "Under the Sea" and "Kiss the Girl" brought the house down. I enjoyed watching him in last season's The Wiz, but now, with the accent and the dance moves — I may be in love with a Jamaican crustacean who sings and dances calypso.

Also a veteran of The Wiz, Jeremiah Packer delivers an adorable performance as Flounder, Ariel's best friend. He perfectly captures the innocence of the character and some almost-human emotions while fluttering about with Ariel on her adventures.

It is a story featuring a little mermaid, to be sure, but the supporting cast really took the production to another level. It was a pleasant surprise to see Taylor Kraft as Aquata, one of the mersisters and part of the female ensemble. Last seen at the CFRT in Million Dollar Quartet, Kraft also appeared in Ring of Fire — two of my favorite CFRT shows to date. Kudos to Christian Donnelly as Scuttle and the Gulls whose tap routine during "Positoovity" was a show highlight.

Perhaps no other moment in the show really delivered for me the reason CFRT is such an asset to our community than seeing Ken Griggs on stage as Chef Louis. I last saw him performing as the lead in It's a Wonderful Life in December. To see that serious, powerful performance followed by his fun and silly rendition of "Les Poisson" really demonstrates the goldmine of talent we have in the local area. His turn serenading fish and chasing crabs was something else, not to mention that wig!

Don't miss this show. Disney's The Little Mermaid runs through Feb. 12. Visit www.cfrt.org or call 910.323.4233 for more information.