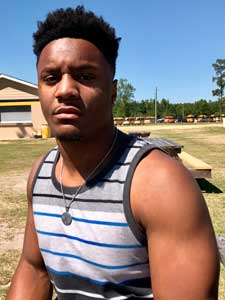 There's an air of anticipation, but more than a little concern as Cape Fear High School holds spring football conditioning workouts after the best season in
school history.
Coming off a 15-1 record that included the school's first-ever conference football title and trip to the state 4-A championship game, there are plenty of reasons to be excited.
But the reason for concern is quickly made evident when you arrive at the practice field and see star quarterback Justice Galloway-Velazquez wearing a walking boot on his left leg.
The boot is the result of recent surgery to repair an assortment of injuries to his left ankle. The worst was a torn ligament he suffered in the Eastern 4-A finals against Scotland. There were also pieces of cartilage left in his ankle from a previous injury, plus tissue and bone damage from his freshman year.
"They cleaned all that up and said I'll come back 100 percent,'' Galloway-Velazquez said. There's an outside chance once the boot comes off in about a month and he finishes rehab he could take part in the closing stage of summer workouts. "The healing process is coming along faster than I thought,'' he said.
Still, don't be surprised if the Cape Fear staff plays things cautiously and holds him out until the official start of summer practice on July 31.
Meanwhile, though he can't work out, Galloway-Velazquez is showing up at practice during the spring conditioning period. "I'm a leader on and off the field,'' he said. "Me being out here while I'm injured shows a lot to them and means a lot to me.
"I can contribute not only by wearing a helmet but by just being a standby, helping out with
the coaches.''
Cape Fear suffered some key graduation losses, especially among Galloway-Velazquez's corps of receivers, but he doesn't think that means Cape Fear won't field another good team.
"We're going to be different, but people should be prepared for a good game,'' he said. "We play to win, and we play Cape Fear football. We're always going to have a hard-nosed, hitting team and good scoring offense.''
Cape Fear coach Jake Thomas said the approach to the season is the same with Galloway-Velazquez on the sidelines for now. "We're still putting in the same plays,'' he said. "We'll have to make adjustments until he
gets back.''
The biggest gaps the Colts need to fill are at receiver, on the offensive line and the secondary, Thomas said. "We feel like we have the best group of leaders in our program that we've had,'' Thomas said. "It's always good when you have to build around those senior leaders.''
One thing Thomas knows will be different this season is Cape Fear will be a marked opponent after beating every school it faced from the Eastern half of the state.
The Colts will also be dropping to 3-A and joining the new 4-A/3-A Patriot Conference. It includes former Mid-South Conference rivals Overhills, South View and Pine Forest, still 4-A schools, new fellow 3-A school E.E. Smith, plus former members of the Cape Fear Valley 3-A Conference Terry Sanford, Douglas Byrd, Gray's Creek and Westover.
"I've stressed to these guys they're going to have a target on their back after the season we had,'' Thomas said. "It's going to be tougher to make it along that same type of road.''