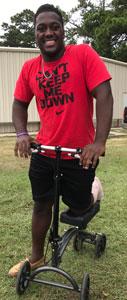 On the first day of school last week, Cape Fear's Chris Matthews was getting around campus with the aid of a four-wheeled scooter. It's not because he's reverting to childhood or because he lost a bet.
His high school football season is over. Matthews was injured when Cape Fear played in the High School OT football jamboree at Cardinal Gibbons High School.
Two defenders fell on his leg, and the three- year starter at linebacker for last year's Eastern 4-A champions immediately knew something was wrong.
"I felt a pop and I started getting upset and angry,'' Matthews said. "I knew it was going to be something bad.''
Colt head coach Jake Thomas said Matthews suffered a clean break in the tibia in his left leg. Complicating the injury was damage to ligaments in the ankle, plus the ankle was displaced.
Add it all up, and Matthews is looking at eight weeks in a cast and up to three months or more trying to rehabilitate the injury.
"All the thoughts went through my head of not being able to play, senior year being snatched away before you're able to play the first game,'' he said. "That's why I'm rolling around on the tricycle.''
Matthews has already had surgery on his damaged leg, and he's listening carefully to the advice of his orthopedist, Dr. Christopher Barnes at Fayetteville Orthopaedics.
But he's also practical, and he's still trying to make as big a contribution as he can for Cape Fear, but in a sideline role. He missed Cape Fear's season-opening win at Clinton as he was home recuperating from surgery on his leg. But he was back on the sidelines and in the pre-game huddle with the team as it won its home opener against Cumberland County rival Seventy-First.
"You could see him when the captains go out on the field,'' Thomas said. "He's been a three-year starter. He was visibly upset.''
But he knows there are other things he can do for the Colts. "He's going to fulfill the role of helping coach the other guys,'' Thomas said. "Now that he's back, he'll be around at practice, take on more of a coach's role.''
He's also going to branch out into multimedia, joining Cape Fear assistant Joe Grates to co-host the second season of the Cape Fear High School football show, which will be posted weekly on You Tube.
Not that there was any chance of it happening, he won't be forgotten by his teammates. "They want to dedicate the season to him,'' Thomas said. The school has already ordered stickers with the No. 40 on them. As soon as they arrive, Thomas said each player will add one to his helmet.
Despite the injury, Matthews isn't giving up on the hope of playing college football next season. That will be the focus of his rehab, he said. But the good news for him is he prepared for the possibility of injury in advance by focusing on academics and assuring himself that football alone won't be his ticket to a college education.
"I listened to those warnings,'' he said regarding the advice to always take care of his grades first. "It's a contact sport and everybody is open to injury. That's why it's important for every athlete to keep the academics up.''
Matthews begins his senior year with a 4.6 grade point average. He was an Up & Coming Weekly scholar athlete last season.
"Nothing will keep me down,'' he said. "There's a lot of negative I could look at, but as long as you focus on the positive you can get through anything and come back stronger.''
PHOTO: Chris Matthews, Cape Fear High School