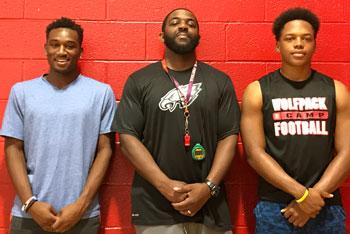 Going back to the days of legendary coaches like Jim Boyette, Bobby Poss and Bob Paroli, the football program at Seventy-First has had common ground with the University of Southern California. You could count on the Falcons to field a strong team, and you could expect them to have a rugged ground game.
That tradition still holds true this season, but the Falcons are building more of a reputation as a passing team thanks to junior quarterback Kyler Davis and senior wide receiver Reggie Bryant. Both have been on the varsity since they were freshman, and both are special talents according to head coach Duran McLaurin, a former Falcon quarterback himself.
McLaurin called Bryant a special player who has a knack for finding the ball in flight and attacking it at its highest point.
Davis was an athletic freshman who showed savvy and poise early in his career. "He developed as a passer through hard work in camps, working out in the spring and summer and developing a relationship with Reggie,'' McLaurin said. "They have definitely turned into quite a pass-catching combo.''
Through Sept. 25, Davis is fourth among Cumberland County Schools quarterbacks with 727 yards. He has five scoring passes, hitting 39 of 67 attempts. His 18.6 yards per completion is tops in the county.
Bryant is the county's top receiver with 27 catches for 610 yards and all five of Davis' scoring throws. Among county players with 10 or more catches he's got the best per-catch average at 22.6 yards.
"If you throw it up, he goes and gets it,'' Davis said of Bryant. "He makes it much easier.''
Bryant gives equal credit to Davis. "We've got little signals and stuff,'' Bryant said. "If he sees something I don't, he tells me.''
McLaurin also feels that as an ex-quarterback he adds something to the process. "I'm occupied with my quarterbacks through the entire practice,'' McLaurin said. "I'm able to give them little tidbits and help them get better at their craft.''
Seventy-First opened its Sandhills Athletic Conference schedule with a big win against Pinecrest.
"We had to do business,'' Davis said. "Being 1-0 in the conference was really important.''
McLaurin seemed almost offended that in some preseason polls conducted by media and coaches, Seventy-First was picked to finish third in the new league.
"We haven't finished that low in the Mid-South and we definitely don't plan on going to a new conference and starting a trend of finishing lower than first or second place,'' McLaurin said. That will be a tall order for the Falcons as they play traditional powers Richmond Senior and Scotland on the road this year.
The Falcons will be without a couple of key players for multiple games as lineman Tristan Hill and fullback Elijah Parter suffered ankle injuries in the Pinecrest game and faced surgery.
McLaurin said the staff will re-shuffle the offensive line and try to find a replacement for Hill. Parter's place with be taken by Devante Wedlock, the latest in a solid line of players at that position from the same family, including his dad David Wedlock and his uncle Jonathan Wedlock.
Bryant said the Falcons are ready to continue pushing forward. "We've just got to listen to coach and stay focused,'' he said. "Don't get off track. It's not that hard. Do what we do.''
Photo captions: L-R: Senior wide receiver Reggie Bryant, Coach Duran McLaurin, junior quarterback Kyler Davis