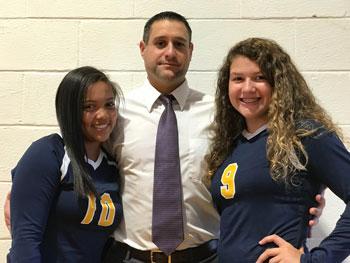 The players who stand in the shadow of the net and soar to make dramatic spikes draw most of the attention in volleyball.
But Cape Fear coach Jeff Bruner said you shouldn't overlook the players in the back row, the ones who dive to the floor and make spectacular saves to spark a rally.
"We've sustained big rallies, and we've never done that without some miraculous dig that's taken place from Marlie Horne or Taylor Melvin,'' he said. "It takes one spectacular play from them, and lo and behold, we score seven points in a row.''
The defense sparked by Horne and Melvin has been a key factor in Cape Fear's run to the Patriot Athletic Conference regular-season championship in volleyball. The title came after Bruner made some major changes in both his offensive and defensive alignments this season.
"I don't mind each year taking the pieces we have and going a different direction if we have to,'' Bruner said. "It was a total redrawing of the playbook. Toward the middle of the season they started to become comfortable with it.''
Horne felt the team adapted fairly quickly. "We have a smart group of girls that can adjust easily,'' she said. "We all play travel ball.''
Melvin agreed with Bruner that the role of the defense is critical to making offense work. "If you get a good pass, the setter has more options,'' she said. "A good pass means a hitter will probably get a good set. A good pass equals a good hit.''
Melvin said now that the playoffs are approaching, the Colts can't give up and need to keep pushing. "We've got to adjust to the things the other team does if we want to win,'' she said. "We've got to keep our heads up, work on individual stuff and cover the floor. Work hard on and off the court.''
One challenge for the Colts in this year's state playoffs is they've moved from the 4-A to the 3-A classification, which means they'll likely be facing some teams they're not familiar with.
"I don't think we have a very good handle on estimating who we are going to play in the first couple of rounds,'' Bruner said. "Once we see who it might be, we're going to have a plan B ready so we can change to that team. We'll have different strategies based on what team we are playing.''
The N.C. High School Athletic Association volleyball playoffs begin Oct. 21.