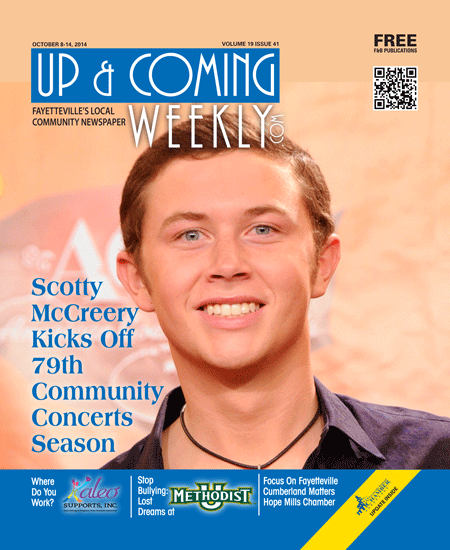 October 17 is the date the 79th season of Community Concerts kicks-off at the Crown Theatre. Since 1935, Community Concerts has worked to provide the area with high caliber entertainment.
Last season the organization brought in Joan Rivers for a night of comedy in what proved to be one of her last performances. Other notable acts that Community Concerts has brought to the area include: Gladys Knight, Kenny Loggins, Earth,Wind and Fire, Martina McBride, The Doobie Brothers, Styxx, Kool and the Gang, LeAnn Rimes, Darius Rucker and the list goes on.
The all-volunteer organization also does more than just promote shows. Since 2008, the group has produced The Fayetteville Music Hall of Fame that honors individuals who have contributed to the local musical community. Since 2004, more than 20 young people that have been awarded scholarships to institutions of higher learning to pursue their love of music. The organization also promotes area talent by including local up-and-comers in the show's lineup whenever possible.
All of the other work that the organization performs comes directly from the support of the community for their yearly show series. The 79th season will feature six exciting and diverse shows for the residents of Fayetteville/Cumberland County to enjoy.
To kick-off the season with a local flair, 2011 American Idol winner and North Carolina native, Scotty McCreery will bring his See You Tonight Tour to Fayetteville for a night of country music on Oct. 17. The tour, which began in early 2014, was supposed to have concluded by now, but McCreery said he and his touring companions decided they wanted to keep going.
"It has been an awesome time. The whole summer was awesome; a lot of fun. Me, the band and crew had a blast. So we decided, might as well not end it and keep the momentum going. We extended the tour and the buzz and response has been pretty awesome with the fans coming out to the shows. It is going to be a fun fall. We are lucky enough to have Danielle Bradbury to join us for some of the dates. It'll be a blast."
This tour is the first tour in which McCreery received top billing. While McCreery is no stranger to performing in front of large audiences both as part of the American Idol Tour and other artists' tours he was invited to participate in, he said that this tour was a big change.
"It is definitely different. The fans are coming to see you and not somebody else. That is kind of cool to know while you are on stage. To have that reassurance that the fans are really digging what you are doing. We are having a good time," he explained.
McCreery also went on to describe how different the show preparation process is, "You have got to put a little more thought into your shows. It's an hour and half instead of 20-30min like when you are opening for someone else. You have got to put a good show together to try to take the audience on a journey from beginning to end," he said. "That's what we are trying to do. All summer we have had a good time doing that. We are going to change up a few things going into the fall but, mostly, it will be the same show. It'll be a fun hour and half packed show."
The show on the 17th at the Crown Theatre will be the only stop in North Carolina that McCreery makes while on this tour, but that fact seemed to motivate him even more,
"It is always a little different for me when we get back to North Carolina and play a local show. Something always happens or changes whether I bring on a guest or change up a set or something. It's always a little more special when you play the hometown shows."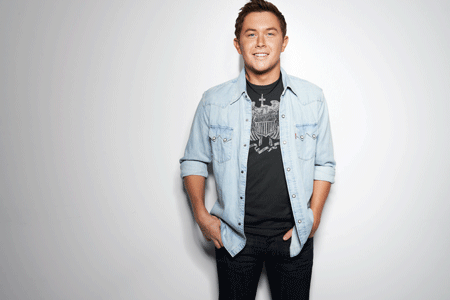 After winning the 2011 American Idol competition, McCreery quickly found himself on the receiving end of the adoration of fans both locally and nationally.
"It has been pretty wild to see. It is pretty much everywhere nowadays. I haven't gone out into public without a hat on in, I don't know how long. That might not bode well for my hair over the next 30 years."
He spoke fondly of his experiences with fans recognizing him out in public, "Some folks get annoyed by it; me, not as much. I see it as a pretty cool thing. If they see you and know you, that means they know your music… It's cool. I have got some of the best fans in the world. I am blessed to have them. I enjoy the fans and hope they dig the music, which is what it is all about."
Despite all of the fame that came with experience on American Idol and the success that has come along with having two albums hit number one on the country charts McCreery has somehow managed to stay grounded.
"That's the way I was wired by my parents growing up. But it also has a lot to do with the kind of people that you keep around you. My band and crew, on the road, they don't treat me any different. They keep me level headed. My friends back home, too, I don't get any special treatment anywhere in life. I get enough of the spotlight when I am on stage; when I get off the stage, I just want to be treated like Scotty."
After McCreery's performance, Community Concerts will have five more shows:
Sister Act Friday, Nov. 14
Trace Adkins Wednesday, Dec. 10
Dancing Pros Live Wednesday , Feb. 11
The Australian Bee Gees Wednesday, March 24
Smokey Robinson Thursday, April 16
More information about each of the shows, tickets and/or season tickets is available via the Community Concerts website at www.community-concerts.com.
Photo: North Carolina Native Scotty McCreery, the 2011 American Idol, will kick-off the 79th Community Concert Series at the Crown Theatre on Oct. 17.