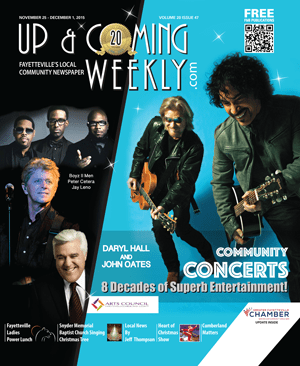 Fayetteville is not the same place it was in 1935. But some things do not change, one of which is a love of music. In 1935, a group of music lovers came together to form Community Concerts. Over the years, the organiztion, like the city, has evolved.
First started as a Columbia Artists franchise that canvassed the nation in the early 20th century has grown into a local entertainment powerhouse that delivers top-notch productions to the community. Every season. Without fail. Today, just a handful of Community Concerts programs remain throughout the country, one of which if here inFayetteville. Celebrating 80 years of bringing great music to the community, Community Concerts is launching its biggest season. Daryl Hall and John Oates open the 2015/2016 line-up on Dec. 5. Peter Cetera, Boyz II Men and Jay Leno follow with shows in January, March and April, respectively.
Michael Fleishman, long-time board member and current Community Concerts attractions director, joined the team more than 20 years ago and was a part of the organization when it made a conscious decision to veer away from the status quo.
"Community Concerts used to be a lot of chamber music and choral groups," he said. "We decided to turn to the pop music genre for our productions and then did our very best to wow our audiences every single year. We concentrated on bringing the best entertainment we could afford to Fayetteville. Once we did that, once we made taking care of our audiences our priority, things just sort of took care of themselves."
This year, the Community Concerts organization focused on bringing fewer shows but bigger names to Fayetteville, booking a $100,000 season.
"Last year was our biggest season. This year is our most expensive," said Fleishman.
Daryl Hall and John Oates are the top-selling duo in music history. Their music has not only entertained fans for decades, it laid the ground work for the next generation of musicians. Their acolytes include big names like Rob Thomas, John Mayer, Brandon Flowers of the Killers, Ben Gibbard of Death Cab For Cutie and MTV's newest hipsters Gym Class Heroes. Hall and Oates have graced the cover of Spin Magazine, had tours named in their honor (the Gym class Heroes "Daryl Hall for President Tour 2007"). Last year, the duo received the coveted nod and was inducted into the Rock and Roll Hall of Fame.
With more sales than any other performing duo, Hall and Oates continue to deliver performances that keep crowds on their feet.
"This is going to be a great concert," said Fleishman. "They've got so many hits."
Chart toppers for the pair include: six number one singles, including "Rich Girl", "Kiss on My List," "Private Eyes," "I Can't Go For That (No Can Do), "Maneater" and "Out of Touch" from their six consecutive multiplatinum albums. Plus five Top 10 singles, "Sara Smile," "One on One," "You Make My Dreams," "Say It Isn't So" and "Method of Modern Love."
In addition to touring, Hall currently stars in a web series called "Live from Daryl's House." It airs every Thursday at 11 p.m. EST on the Palladia Channel or at www.livefromdarlyshouse.com. The show has had a plethora of guest artists including Joe Walsh, Booker T and the MGs, The Blind Boys of Alabama, Train, Cee Lo Green, Smokey Robinson, The Doors' Robby Krieger and Ray Manzarek, Toots Hibbert, K.T. Tunstall, Todd Rundgren, Keb Mo, Dave Stewart, Goo Goo Dolls' John Rzeznik and Fall Out Boy's Patrick Stump along with newcomers such as Nick Waterhouse, Chiddy Bang, Grace Potter & the Nocturnals, Matt Nathanson, Parachute, Plain White T's, soul diva Sharon Jones, Diane Birch, L.A. neo-R&B party band Fitz & the Tantrums and hot new alternative band Neon Trees. Adding a restaurant and music club to the mix, Hall opened Daryl's House on Oct. 31 in Pawling, New York. The eatery/club serves as the backdrop for the show.
The two have no problems staying busy. In March, look for a new concert video release — the first in seven years. Daryl Hall and John Oates: Live in Dublin. It was filmed on July 15, 2014 at the Olympia Theatre in their first ever Dublin performance.
Oates released a solo project called Good Road to Follow in March of 2014.
In January Peter Cetera will electrify the audience at the Crown.
"He was Chicago's lead singer for a long time," said Fleishman. "He has since gone on to have a successful solo career. There is probably not one of his songs that you won't recognize."
Cetera performed with Chicago from 1968 through 1986. He was the lead singer, he wrote songs, he played the bass. Hits from that era include "If You Leave Me Now," "Hard to Say I'm Sorry," "Baby What a Big Surprise," "You're the Inspiration," "Stay the Night," "Love Me Tomorrow," "Happy Man," "Feeling Stronger Every Day" and "Along Comes a Woman."
Striking out on his own, Cetera recorded 10 albums and was nominated for an Academy Award for "The Glory of Love" from the hit movie The Karate Kid II. He went on the top the charts with "The Next Time I Fall" with Amy Grant; "Feels Like Heaven" with Chaka Kahn; "After All" with Cher from the motion picture Chances Are; "No Explanation" from Pretty Woman and "Restless Heart."
Four-time Grammy Award winners Boyz II Men have been changing the R&B landscape for more than 20 years. Accolades include nine American Music Awards, nine Soul Train Awards, three Billboard Awards, and a 2011 MOBO Award for Outstanding Contribution to Music.
With classics that appeal to all generations, Boyz II Men produced hits that include "End of the Road," "I'll Make Love to You," "One Sweet Day" and "Motownphilly."
"Boyz II Men continues to deliver high-energy shows that audiences love," said Fleishman. "They are known for great harmonies and relatable songs."
The band is set to release a new album in September called Collide. Two of the tracks, "Better Half" and "Diamond Eyes" are featured on a special episode of ABC's hit show,
The Bachelorette.
The group's charity, Boyz II Men House "lends support to individuals and organizations that focus on improving quality of life and helping to unlock human potential, while contributing to the health and vitality of those less fortunate."
Funny man Jay Leno kept America laughing for decades. Talk show host, author and stand-up comedian, Leno closes out the 2015/2016 season of Community Concerts.
Leno's comic career spans 40 years. He performed for the armed forces during conflicts in Bosnia and Afghanistan and serves as master of xeremonies for several charity events each year. This big-hearted entertainer is sure to have the audience in stitches.
For more information or to purchase tickets, visit www.community-concerts.com.