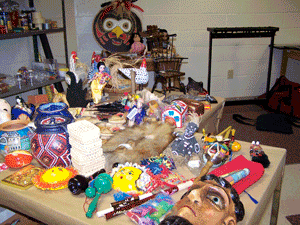 A recent walk-through of the Fayetteville Museum of Art revealed empty walls with no exhibits on display. Instead, walls and floors were lined with stacks and stacks of items for sale. These artifacts, treasures and office supplies that were once used daily at the Fayetteville Museum of Art are grouped, priced and ready to make themselves useful at a different home — possibly yours.
On Saturday, Nov. 20, from 9 a.m. - 3 p.m. the doors of the Fayetteville Museum of Art will be open once again. Only this time it's not for a new exhibit, but for a tag sale. They are looking to sell most everything in the building. There will be art, art supplies, appliances, offIce supplies, office furniture, computers, electronics, tools, paint, kitchen supplies, books, cultural artifacts, educational toys and plenty of unique odds and ends.
"We really have some treasures here," said Meredith Player Stiehl, of the Fayetteville Museum of Art Board of Trustees. "Everyone from the small business owner looking for offIce equipment and supplies to homeschoolers looking for resources, to teachers, parents, art collectors — you name it, they can find something here."
Items are priced to sell. The museum store has Andy Warhol items that normally sell for $15 marked down to $2. Art desks that have been well used and well loved but that still have plenty of useful life left in them are going for $25. Grab a chair to go with it, they are $3 - $5.
Don't come expecting to haggle over the price of office supplies, although there will be some wiggle room in price when it comes to the pieces of art that are being sold.
"We'll have our curator here for the tag sale," said Stiehl. "She will be able to answer any questions that people have about the art work we are selling."
The offerings range in scope, size and tastes. There are a few pieces by a Disney illustrator, works by students who attended art classes at the museum and pieces that were donated over the years for safe keeping.
Although it is difficult to watch so much of their inventory go out the door, Stiehl realizes that it is for all the right reasons. The board of directors is keeping the museum's private collection, library materials and a few other resources and plans to use them again when the museum opens its doors at some point in the future, and hopefully that will be sooner rather than later.
"We are currently waiting to hear back from a consultant about plans for the future of the museum," Stiehl said. "We are going to store the few things we aren't selling at the tag sale, and hopefully we will find a space that we can use to reestablish the museum and make these resources available to the public once again."
If you are coming to the tag sale at 839 Stamper Rd., to take advantage of the great bargains, bring cash, as checks and credit cards will not be accepted. Visit www. fayettevillemuseumart.org for more information.