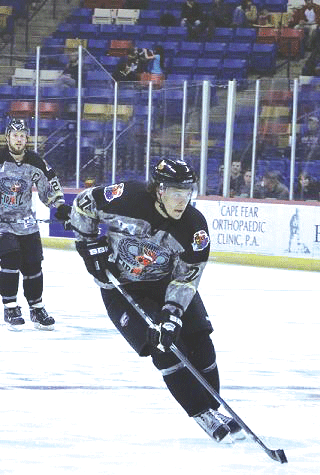 Your Fayetteville FireAntz return to action this Saturday night and will take to the ice in the middle of the muddied waters that are the Southern Professional Hockey League standings. There are only four points separating fourth place from seventh in the SPHL, with the top six teams qualifying for the playoffs.
There is plenty of hockey to be played, however, as the FireAntz have 21 games remaining of the 56-game schedule. Of those, nine are at home where the FireAntz will look to capitalize on their home-ice advantage.
As the FireAntz begin their push towards the playoffs they are looking to a few key players to lead the way. Two forwards, Chris Leveille and Rob Sich, are amongst the top four in scoring in the SPHL and have been near or atop the scoring list all season. Newcomer Anthony Perdicaro has been a tremendous spark for the offense as well, tallying a point-per-game that he's been with the club.
At the other end of the ice, the FireAntz have received tremendous play from two rookie goaltenders, Travis Yonkman and Mike Spillane. Each arriving since opening night, the two rookies have proven to be among the best the SPHL has to offer. Spillane, who was named SPHL Player of the Week on December 5th, was then quickly called up to the Greenville Road Warriors of the East Coast Hockey League (ECHL.) Yonkman, who leads amongst goaltenders in the SPHL in save percentage is the other half of the dynamic goaltending duo for the FireAntz. He is also fourth in save percentage.
Combining with the offense and goaltending the FireAntz continue to look to captain defenseman Craig Geerlinks to anchor the team's defensive corps. The perennial leader in blocked shots as well as the all-time leader in games played in SPHL history, the veteran provides solid on and off ice leadership as well as being the consistent stalwart defenseman for the FireAntz.
Join the FireAntz in their push through the remainder of the season as they look to get into playoff mode. There is sure to be riveting hockey action the remainder of the season. Kick it off this Saturday, Jan. 29th, as your FireAntz take the home ice against long time rival, the Knoxville Ice Bears.
Photo: FireAntz Forward #7 Anthony Perdicaro. Photo Courtesy: J. Shank.