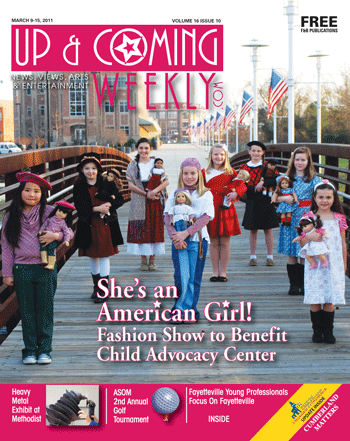 For 25 years, American girls have been playing with, and reading about, American Girls. The books and dolls at the center of the American Girl company have put a new spin on play by encouraging young girls to be confi dent and strong, much like the girls in the books.
Since 1993, the Child Advocacy Center has been working to build strong, healthy children in Fayetteville. The center, located on Ray Avenue, just across from Festival Park, provides a safe, child-friendly place where its 19 partner agencies come together to interview, investigate and provide support for abused children. In the absence of the center, victims of child abuse would be required to visit numerous agencies and tell their story over and over.
Each year, the agency hosts a number of events to raise funds to support its operation. None are as highly anticipated as the annual American Girl Fashion Show. This year's event is slated for March 26-27 at the Crown Center Ballroom. The fashion show, which features hundreds of local girls, showcases historical and contemporary fashions for girls and their dolls.
This is the fourth year that the Child Advocacy Center has hosted the American Girl Fashion Show, and according to Jean Harrison, the marketing director for the Child Advocacy Center, each year the attendance has grown. Last year 800 people attended the event, which netted more than $28,000.
"We hope to sell out all shows this year," said Harrison. "We have a capacity for, 1200 people at all four shows."
Harrison added that there are more than 120 girls modeling this year.
"Many of the girls are from Cumberland County but we also have some models from Raleigh, Wake Forest, Holly Springs, Leland, Jacksonville, Raeford and other North Carolina communities," she explained. "The event could not happen without the dedication of many volunteers under the leadership of Julia Adkins, Cindy Huguley and Carol Jones."
For Adkins, participation in the event stems from her strong belief in the organization's mission.
"I became involved with this project for a couple of reasons. I believe in this center and what it does for its victims," she said. "It takes special people to deal with the stories that come through these doors. The people here are amazing.
"Another reason for my involvement is that this event is a way to involve today's youth in volunteerism and community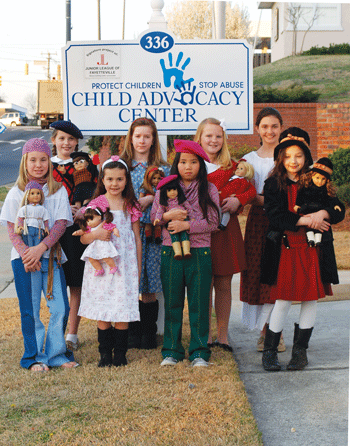 awareness. My daughter is a prime example. Through my involvement she has now actively become an advocate for the CAC. My dream is that after becoming involved with the American Girl Fashion Show these little girls and their moms will fi nd something to dedicate their time to."
While at the fashion show, attendees will be delighted with the fashions while lively commentary, music and decorations will create a memorable experience. Audiences will delight in historical clothing that resembles what the popular American Girl characters might have worn.
Contemporary "Just Like You" outfi ts for older girls and sweet Bitty Baby fashions for little ones complete the program. This year's show will include new, special occasion fashions and commentary and a celebration of the 25th birthday of American Girl dolls.
The event includes elegant refreshments, party favors, raffl es and door prizes. Tickets may be purchased online at www.ticketmaster.com or in person at the Crown Center Box Office, 1960 Coliseum Dr. in Fayetteville. In addition, tickets are available at Ft. Bragg Leisure Travel Services.
Advance orders of souvenirs, party packages, guest model opportunities and more are offered at the Child Advocacy Center's website, www.childadvocacycenter.com, or by calling(910) 486-9700.